markets
Five Things You Need to Know to Start Your Day
Get caught up.
By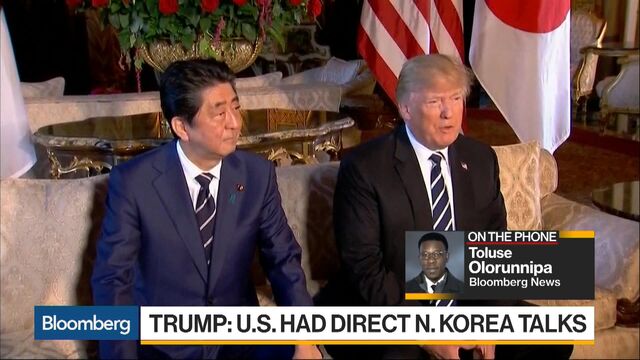 Want to receive this post in your inbox every morning? Sign up here

Markets brush off lingering trade concerns, focusing instead on strong earnings to propel U.S. stocks higher. That's even as China retaliates for the U.S.'s hit on ZTE Corp. Here are some of the things people in markets are talking about.
U.S. and North Korea in "Direct Talks" 
President Donald Trump said the U.S. and North Korea have already started direct talks at "extremely high levels" in advance of a planned meeting between the two nations' leaders this summer. He didn't identify which U.S. officials have been involved. Trump's comments follow a report yesterday in the Munhwa Ilbo newspaper that South and North Korea are discussing plans to announce an official end to the military conflict between the two countries that are still technically at war. Here's what the endof that dispute might mean. 
China Offers Carrots, Sticks
China adopted a carrot and stick approach to the U.S. on Tuesday as the risk of a trade war between the two powerhouse economies continued to simmer. Beijing promised foreign car makers such as Ford Motor Co. greater freedom to compete in the world's biggest market, but it also slapped anti-dumping duties on imports of U.S. sorghum. The moves show China is willing to open some areas of its economy, but will also respond to signs of rising U.S. protectionism. Treasury Secretary Steven Mnuchin doubled down on President Donald Trump's charge that China is gaming its currency, describing the remarks  as a "warning shot" about the consequences of devaluation.
Earnings Spur Stock Gains
Asian equities headed for a higher start after U.S. stocks soared a second day. Better-than-expected earnings from U.S. industry heavyweights added to evidence the economy is strengthening. The dollar traded sideways as declines in the pound, kiwi and Swiss franc offset gains in the loonie and yen. Oil and precious metals rose. Treasuries plied a narrow range, with the short-end nursing small losses while the long-end rallied. Meanwhile, stock pickers may have to reconsider the way they think about China. The country's $7.6 trillion equity market has quietly turned into a place where fundamentals matter.
IMF Spots Trouble Ahead
The International Monetary Fund predicted the world economy's strongest upswing since 2011 will continue for the next two years, but warned the seeds of its demise may have already been planted. The fund left its forecasts for global growth this year and next at the 3.9 percent it estimated in January and raised its outlook for the U.S. as Republican tax cuts take effect. Beyond that horizon, global growth will fade as central banks tighten monetary policy, the U.S. fiscal stimulus subsides, and China's gradual slowdown continues.
Coming Up...
Asia traders will be keeping an eye on developments from Japanese Prime Minister Abe's two-day get together with Trump. Abe could be looking for some concessions on trade and a chance to shore up his image after scandals rocked his administration. The country's trade figures are due Wednesday. In China, investors will be wondering what can stop the bleeding for stocks, after even solid GDP numbers proved insufficient to turn the market around. 
What we've been reading
This is what caught our eye over the last 24 hours.
— With assistance by Garfield Clinton Reynolds
Before it's here, it's on the Bloomberg Terminal.
LEARN MORE