Russian Assets Rally on Report Trump to Roll Back New Sanctions
By , , , and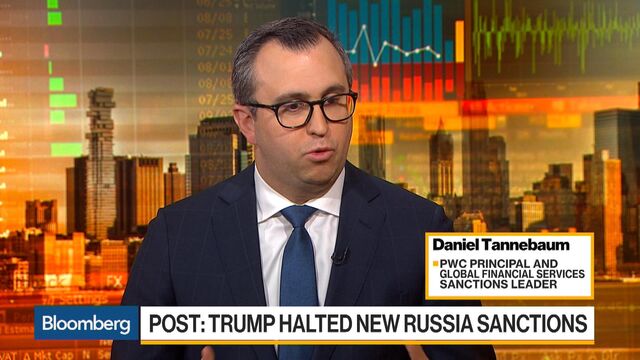 Russian assets rallied after the Washington Post reported that U.S. President Donald Trump will roll back new sanctions on Russia, lifting hopes that tensions between the two countries won't escalate.
The ruble rallied to a session high, leading EMFX gains, rising about 1.3 percent to 61.23 per dollar. Russia-exposed companies including Yandex NV, VEON Ltd. and Lukoil increased on the report.
"The ruble's slide may be closer to its end than its beginning," said Erik Nelson, a currency strategist at Wells Fargo in New York.

Russia stocks, bonds and the ruble are among the worst performers this year amid investor concern the U.S. would impose sanctions for meddling in the election and refusing to condemn Syria for chemical weapons attacks. An expectation for further sanctions, telegraphed as recently as Sunday by U.S. Ambassador to the U.N. Nikki Haley, prompted some investors, including top Russia debt holder Blackrock, concerned about reputational damage.
Here's what analysts and strategists have been saying:
Wells Fargo's Nelson:
"There could still be some headlines around tensions and possible further actions, but generally speaking we think that any possible further ruble weakness would be modest, while we still see a moderate ruble recovery over time"
Forecast ruble gaining to 60 per dollar by the end of the year
"Ongoing economic recovery and more constructive oil price backdrop will be key factors underpinning the ruble recovery"
Danny Fang, strategist at BBVA:
"The market was trying to determine if the geopolitical tension could escalate or not last week"
"It is understandable for some of the market divergence over the past week to rebound accordingly"
Trump's sanctions halt is a factor in the same direction
Quotes from this Article
Before it's here, it's on the Bloomberg Terminal.
LEARN MORE