Awful Price Action on Banks a Bad Omen for Netflix: Taking Stock
By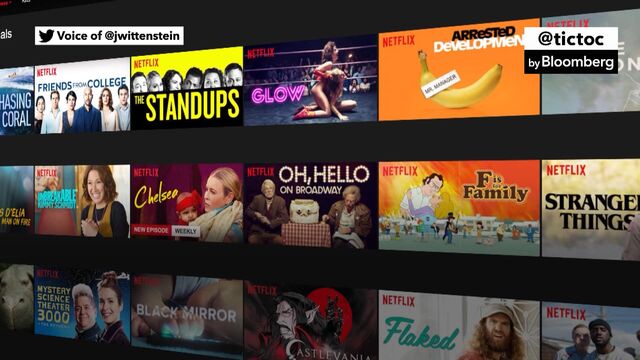 The gain in stock futures and the drop in crude oil is baffling some, though it seems as though the "Mission Accomplished" strikes in Syria are being looked at as more limited and less damaging than feared.
One positive for the markets is that Trump didn't up the ante again on China tariffs, at least not yet, but we are awaiting fresh sanctions on Russia (interestingly enough, Russia ETFs are flattish so far this morning, but aluminum has hit a six-year high -- more on this below) and further revelations from Comey's tell-all on his brief sojourn in the Trump administration.
And there remains plenty of nervousness ahead of the first heavy week of earnings season after some awful price action in the banks on Friday. Speaking of, Bank of America shares are well off highs after mixed results this morning.
As for some of the biggest sell-side calls today --- GE is off ~0.5% pre-market, with Goldman expecting a cut to 2018 guidance after Friday night's much-anticipated restatement... discount airliner ALGT is down over 1% with a couple analysts seeing further downside after a damaging report on "60 Minutes" last night... mattress firm TPX indicated lower after Loop Capital cuts to sell on competitive checks.. CROX looking lower on a Susquehanna downgrade tied to "unrealistic earnings power" and COST up more than 1% on a Wells Fargo upgrade.
The Setup Into Netflix Earnings
After the rough reaction to bank earnings on Friday, the bullseye now turns to FAANG darling Netflix, which is a stock in a league of its own. Shares have exploded higher 62% year-to-date and are the second-best performer in the S&P 500, and would be atop the list had it not been for a biotech by the name of Nektar Therapeutics (with a tenth of Netflix's market cap) getting added to the index in March.
Expectations are running high going into the report, as demonstrated by the sell-side ratcheting up numbers hand over fist in the past couple weeks. But even if the company beats the whispers (Keybanc says buy-side 1Q subscriber adds likely in range of 7.0m-7.3m), there are definite jitters over the 2Q forecast, which some are expecting to be conservative.
And even if the guide looks OK, it isn't a given that traders won't take the opportunity to take some money off the table, like we saw with the banks. The macro and equities landscape has changed way too much since NFLX's last report (SPX is down 6.2% since then vs NFLX up 37%), so don't be surprised if the outcome is a bit different this time.
But no matter the positive or negative outcome, a sympathy trade in the FAANG peers as well as the rest of tech may be very short-lived. Recall that last earning season, NFLX soared more than 20% in the four days after issuing blow-out guidance -- but the rest of tech didn't exactly follow suit -- in fact, tech was the third-worst performer in the S&P 500 in that same time span, with FB and GOOGL only ramping up ~2% and AAPL actually sliding more than 3% (on worries over their own upcoming quarterly results).
Watch These Sectors for Volatility
The next few days are crucial, as we'll receive earnings from a bevy of heavy hitters, many of whom are the first to report in their group. The Street is likely to place more emphasis on the conclusions from these results versus those reporting in two weeks, and thus the spillover trading impact is expected to be higher.
The ones to watch for now are large-cap tech and the semis (IBM and LRCX tomorrow followed by European giant ASML the following morning), big pharma and medtech (JNJ, ABT and ISRG over next couple days plus a ton of data out of the American Association for Cancer Research meeting), the HMOs (UNH kicks it off Tuesday morning), the online brokers (SCHW hitting shortly), and the truckers (JBHT today) as well as the rails and the airlines (CSX and UAL are both Tuesday after the close).
Also anything levered to Russia sanctions should be monitored, given the talk this weekend that further sanctions are expected to hit today. Here are the ETFs and stocks to pay attention to, and also how they've performed since a wave of sanctions hit last Monday: The main ETFs (RSX, ERUS, RSXJ) all fell 8%-10%, the 3x bull ETF RUSL sank 29%, the 3x bear ETF RUSS surged 24%, YNDX (Russia's Google) -16%, VEON -15%, and QIWI -14%.
Also keep an eye on Alcoa, which ran up 14% on the week thanks to a spike in aluminum, and Boeing, which got smacked Friday on concerns of titanium supply. This, in turn, gave a brief bid to titanium-levered names like ATI and ARNC.
Here's What Strategists Are Saying
Morgan Stanley's Michael Wilson: Constructive into earnings season with a high bar likely met on a mix of organic growth and tax flow through; "robust earnings should help move the market higher, but watch for early signs of margin pressure as a harbinger of earnings growth deceleration later this year"
RBC's Lori Calvasina: Reiterates overweight rating on energy as the sector is catching investors' attention again; "the case for the sector from a generalists' point of view has strengthened since the start of the year and that like Financials and Industrials, it is an appealing alternative to crowded secular Growth names as long as the economy remains strong"
JPMorgan's John Normand said Brent oil could spike to $80/bbl if the U.S. and EU reimpose sanctions on Iran and as Western powers expand the scope of the war in Syria
Tick-by Tick Guide to Today's Actionable Events
Today -- QD IPO lockup expiry
Today -- nVent (PNR spinoff) to trade when-issued
Today -- RSA conference kicks off (may impact cybersecurity stocks like FEYE, PANW)
Today -- American Association for Cancer Research event (data from BMY, MRK, DVAX)
Today -- TRN Supreme Court decision on guardrail case likely, according to Susquehanna
7:30am (roughly) -- JBHT earnings
8:30am -- Empire Manufacturing, Retail Sales
8:30am -- BAC earnings call
8:45am -- SCHW earnings
10:00am -- NAHB Housing Market Index
11:30am -- CRM investor meeting hosted by Deutsche Bank
12:00pm -- Wilbur Ross joins Google, IBM officials to talk transatlantic business
12:00pm -- Fed's Kaplan speaks at Intl Economic Forum
1:15pm -- Fed's Bostic speaks on the economy
4:05pm -- NFLX earnings
4:15pm (roughly) -- CE earnings
6:00pm -- NFLX earnings call
6:00pm -- BMY investor event to discuss data at AACR
7:45pm -- MRK investor event to discuss data at AACR
10:00pm -- China Industrial Production, GDP, Retail Sales
Quotes from this Article
Before it's here, it's on the Bloomberg Terminal.
LEARN MORE