Markets
Allegiant Tumbles Following '60 Minutes' Report on 'Midair Breakdowns'
By , , and
Allegiant Tumbles Following '60 Minutes' Report on 'Midair Breakdowns'
By , , and
Show cites aborted takeoffs, emergency descents at discounter

'That was 30 minutes of horrible publicity,' analyst writes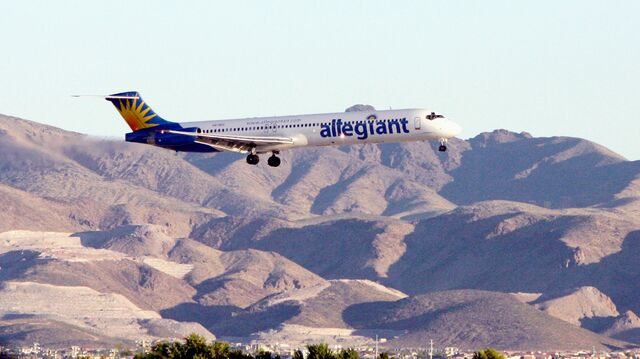 The parent of Allegiant Airlines dropped following a "60 Minutes" segment detailing a high number of what the program called "midair breakdowns" at the budget carrier.
"Public documents show an alarming number of aborted takeoffs, cabin-pressure loss, emergency descents and unscheduled landings," according to a report the CBS program aired Sunday evening.
The segment included interviews with shaken passengers and prominently featured a former member of the National Transportation Safety Board, John Goglia, who said he discourages family and friends from flying the carrier. Almost 30 percent of Allegiant's planes are "antiquated" McDonnell-Douglas MD-80 aircraft, the program said.

Allegiant Travel Co. fell 3.1 percent to $146.40 at the close in New York. That followed an 8.6 percent drop on April 13 in anticipation of the "60 Minutes" segment, making it the biggest two-day decline since October 2016. The slide wiped out a 6.8 percent advance this year through April 12.
"We found little in the way of incrementally negative data points concerning Allegiant's operational challenges over the past few years," Joseph Denardi , an analyst at Stifel Nicolaus & Co., wrote in a note to investors. "The bottom line is that, true or false, that was 30 minutes of horrible publicity for Allegiant with sound bites that will extend the story."
Old Incidents
Allegiant responded that it emphasizes safety, meets all federal requirements and that the "60 Minutes" report dealt with old incidents that had been investigated by the Federal Aviation Administration.
"Safety is at the core of every aspect of our operation, every day," Eric Gust, the airline's vice president of operations, wrote to customers. "Allegiant complies with all FAA requirements and participates in numerous voluntary safety programs to ensure we operate at the highest possible standard."
In an April 11 letter to 60 Minutes made public by the FAA Monday, regulators had noted that a 2016 safety review of the airline found no systemic or regulatory problems, "but did identify a number of less serious issues, which Allegiant addressed."
Improvements Made
The carrier also came under scrutiny in 2015 after a mechanical failure caused the nose of an MD-83 to rise off the ground too soon during takeoff, despite the crew's attempts to push it down.
The agency told the CBS broadcasters that its oversight was working. "The rate of incidents reported by Allegiant to the FAA's Air Traffic organization has trended downward in recent years," it wrote.
The International Brotherhood of Teamsters came to the airline's defense as a representative of pilots, dispatchers, mechanics and other workers at the airline.
"Allegiant Air has experienced issues in the past, like any growing airline, but has worked to correct them," Captain David Bourne, the director of the Teamster's Airline Division, said in a statement. "Allegiant has become a leader in operational reliability."
— With assistance by Josh Fineman, and Nancy Moran