Small Biz
The French Men's Underwear Company Started on a Dare
Guillaume Gibault's Le Slip Français is booming online with locally produced, well-crafted briefs.
By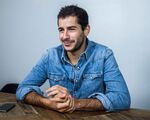 The idea to sell men's briefs came to Guillaume Gibault, the founder of Le Slip Français SA, a year and a half after he graduated from HEC Paris business school in 2009. Sitting with a friend at a Paris cafe, across from the department store Le Bon Marché, Gibault riffed on the types of products he'd consider making and selling. A men's slip (French for brief) came to mind—small, a repeat purchase, you don't try it on, "the perfect product to sell online," he says. The friend dared him to try. So Gibault designed the brief, found a factory, and set up a website and social media pages. He sold 600 pairs in less than two months; he sells about 20,000 a month now.

 
You knew from the start that production would be in France?
Yes. I was thinking of French brands with big international awareness, like Louis Vuitton and Hermès—made in France, local production, high craftsmanship. The know-how is really the DNA of those brands. If I could start a fashion brand online with that same DNA, that seemed cool. We'd use social media to promote savoir-faire.
 
What was your first big challenge?
Actually producing the underwear. I had a lot of orders and not that many factories ready to go. It was tough for them—second-, third-generation owners of workshops that had to lay off half their staff over the past 20 years—to trust a 25-year-old trying to sell briefs online.
 
You got a lot of attention right at the start. How did that happen?
In the 2012 presidential election, François Hollande was saying, "Change is now." So I made it "Change your slip, now!" as a joke. It went viral on Facebook. There were journalists queuing outside my grandmother's apartment, where I ran the business for two years, for interviews.
 
Describe your social media strategy.
What works best is to show how you do what you do every day. Stories about the factories get a great response. We did a Facebook campaign where we painted our label on the roof of one factory, and we took a photo of us and our factory team.
 
How does the near future look?
We're growing mostly online, but also opening more shops and expanding our line of products for both men and women. There's a great opportunity with women. And we're focused on international growth. Right now, 10 percent of our sales are outside of France. We want to keep changing the world with our briefs.
Before it's here, it's on the Bloomberg Terminal.
LEARN MORE