business
Steve Wynn Wants His Name Cut From Massachusetts Casino License
By and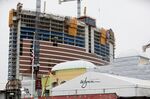 Attorneys for Steve Wynn and his former company, Wynn Resorts Ltd., asked that his name be removed from the company's casino license in Massachusetts but regulators there won't let the mogul off the hook just yet.
The Massachusetts Gaming Commission at a meeting in Boston Thursday said it would decide, possibly in the first week of May, whether to honor Wynn's request to withdraw his name from the license.
Commission chair Stephen Crosby acknowledged that dropping an executive as a "qualifier" on a license is usually a formality. But the commission may want company officials to appear and discuss whether its former chief executive will have any "residual influence" over Wynn Resorts. Crosby said at a meeting last month that Wynn Resorts' license in Massachusetts was at risk because of sexual misconduct allegations surrounding its co-founder, pending conclusion of the investigation that could last until early summer.
Read more: Boston Casino Rises on Land Tied to Mobster
Steve Wynn resigned from the company he founded in February following press accounts of multiple incidents of sexual misconduct over decades as a casino executive. Wynn subsequently sold all of his shares in Wynn Resorts, which is building a $2.5 billion casino in Everett, Massachusetts, just outside Boston. Casino regulators in Nevada, Macau and Massachusetts are investigating the misconduct allegations.
Wynn's attorney in Boston, Brian T. Kelly of Nixon Peabody, sent the commission a letter in March declaring that Wynn has "divested himself of all ownership interests" and no longer meets the definition of a qualifier.
Before it's here, it's on the Bloomberg Terminal.
LEARN MORE