Russia Reins In War Talk as U.S. Strike Looms
By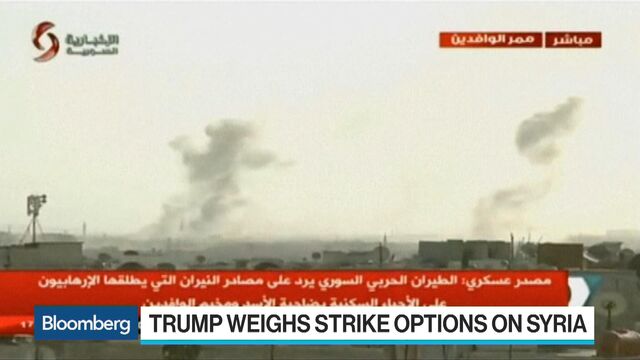 Russians were being fed a steady diet of war preparations earlier this week, with one report on state TV even advising on how long canned goods would last in a bomb shelter.
But a new message began to creep in yesterday after U.S. President Donald Trump's bellicose tweets about Russia and its Syrian ally, Bashar al-Assad. Don't worry, said a senior member of parliament, Russian and U.S. military officials are on the phone and won't let things don't get out of hand.
Officials in Moscow aren't so quick to repeat a top general's warning last month that Russia will shoot down missiles that threaten its troops in Syria and attack the ships or planes that fired them.
The tough talk played well at home and abroad for a while. But with the U.S. showing no sign of backing away from a major strike on Syria, the Kremlin may be preparing to limit the escalation. President Vladimir Putin yesterday appealed for common sense in a world growing "more chaotic."
Another legislator echoed concerns felt in many capitals, when he wrote on Facebook: "It's really scary when you realize who's got their hands on the biggest military arsenal on the planet."

Want to receive this post in your inbox every morning? Sign up for the Balance of Power newsletter, and follow Bloomberg Politics on Twitter and Facebook for more.
Global Headlines
Taking aim at Mueller | Trump discussed firing Deputy Attorney General Rod Rosenstein with White House aides yesterday as a chorus of the president's advisers and allies urged him to thwart Special Counsel Robert Mueller's investigation of alleged Russian interference in the 2016 election. That's fueled concern among congressional Republicans who are pursuing legislation that aims to head off any attempt to oust Mueller.
Blow to House Republicans | Speaker Paul Ryan's retirement threatens to jeopardize the party's hopes of saving its House majority in the midterms by disrupting fundraising and exacerbating divisions inside an already fractious conference. For Ryan, the move offers a chance to add to his already considerable net worth if he opts to join a corporate board or dabble in Washington power struggles after he steps aside.
Talking tough on Russia | Secretary of State nominee Mike Pompeo will say at his confirmation hearing today that a milder U.S. policy toward Russia is "now over" and promise that the department will find its "swagger once again," Nick Wadhams and Laura Litvan report. A U.S. effort to target Russian oligarchs with its latest round of sanctions has increased pressure on the U.K. to do more to shed its reputation as a place to launder corrupt money.
Explosions over Riyadh | Saudi Arabia intercepted ballistic rockets and shot down drones from Yemen in attacks that may further escalate tensions in the Persian Gulf. Loud blasts were heard in Riyadh after one missile was shot down, while two others were prevented from hitting targets in the south. The Houthi rebels are now targeting Saudi cities more regularly, an escalation that the kingdom blames on Iranian support. Tehran denies the charge. 
North Korea's other weapon | While the world pushes North Korean leader Kim Jong Un to get rid of his nuclear arsenal, his regime also poses a grave health threat: drug-resistant tuberculosis, the planet's biggest infectious killer. The problem may get worse as the Global Fund to Fight AIDS, Tuberculosis and Malaria said it would close its programs in June, citing a challenging working environment. Jennifer Furin, a Harvard-trained doctor and researcher, called the move "a disaster that the global health community will pay for later."
And finally... Taiwan will tackle the most pressing of first-world problems, its rapidly aging population, by getting the government involved in people's love lives. Taiwan officially became an "aged society" in March with more than 14 percent of the population 65 or older. In an effort to encourage more people to have babies, the Interior Ministry says it will organize more official matchmaking events. ♡

— With assistance by Kathleen Hunter, Michael Winfrey, and Karl Maier
Before it's here, it's on the Bloomberg Terminal.
LEARN MORE