politics
Priebus a Categorical 'No' to Run for Congress, Report Says
By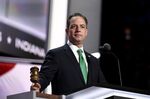 Former White House Chief of Staff Reince Priebus told a Wisconsin radio station Thursday morning that he's not considering a run for Congress to replace Paul Ryan when the House Speaker's term expires in January.
Ryan announced Wednesday that he will not run for re-election in November from Wisconsin's first congressional district, saying he wants to spend more time with his family.
Priebus told WISN 1130 radio host Jay Weber that he's a "categorical 'no' on a congressional run," Weber said on Twitter Thursday. "His life is in a good place right now, and he is enjoying the break from politics."
Priebus is a former chairman of the Wisconsin Republican Party and lived in the state before becoming chairman of the Republican National Committee in 2011.
"Reince Priebus says 'candidates matter' in close elections, and it is of paramount importance that the republicans sift and winnow the poor candidates out early, to put up quality individuals," Weber tweeted. He quoted Priebus as saying: "Candidates (this fall) run from President Trump at their own peril."
Before it's here, it's on the Bloomberg Terminal.
LEARN MORE