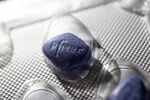 Biopharma investors have enjoyed a recent streak of small-to-medium sized M&A, but they really hunger for something bigger. Pfizer Inc. is considered the most likely candidate to deliver it. 
The Viagra maker is by far the most megadeal-prone company in the pharmaceutical industry, as evidenced by its pursuit of drug giants AstraZeneca PLC in 2014 and Allergan PLC in 2015. While Pfizer wasn't able to seal either deal, those attempts give an indication of the scope of its potential ambitions. 
Too bad, then, that CEO Ian Read recently tore apart a favorite piece of banker fan fiction, telling Citigroup Inc. analyst Andrew Baum that Bristol-Myers Squibb Co. -- an oft-rumored pharma target, despite its $96 billion market value -- was "not worth paying the money for." 
According to a Citi note published Thursday, Read said Pfizer wouldn't consider a bid for Bristol-Myers unless it either cheapened up or came out with "transformational data" to justify its value. In the meantime, Pfizer is likely to buy back more stock and management is confident in its current roster of projects in research and development.
The implication is that major M&A isn't forthcoming, but that may be misdirection. The reality is, there are still good reasons for Pfizer to pursue a deal, and several options it could consider.
Pfizer's revenue growth has been sluggish. Generic competition looms for Lyrica and is already here for Viagra.  Management may be confident in the firm's pipeline, but it doesn't have much company. The firm's late-stage drug candidates aren't particularly exciting. There is a decent strategic rationale behind Pfizer's efforts to divest its consumer business, but accumulating funds for M&A is likely also a motivator. 
AstraZeneca is off the list due to Brexit complications, according to Citi. That likely also disqualifies GlaxoSmithKline PLC. A Bloomberg Intelligence analysis of possible targets mentions Eli Lilly & Co. There would be plenty of cost-cutting to do after such a deal, and a spinoff or sale of Lilly's Elanco animal-health division could generate a quick return. But I think Pfizer will go a different way. Lilly is heavily dependent on its diabetes franchise, which faces intense price pressure. Two of the firm's promising newer medicines overlap with Pfizer drugs, creating a tricky antitrust situation. And Lilly's late-stage pipeline isn't much more appealing than Pfizer's. Plus, Lilly's $86 billion market value would give it a very hefty price tag. 
Celgene Corp., at $68 billion, is arguably a better option. Analysts expect the company to grow annual revenue from $13 billion in 2017 to more than $20 billion in 2021, and the firm has a large and interesting set of pipeline projects. Best of all, it is trading at an enormous discount after a guidance cut and R&D setbacks dealt a blow to investor confidence. Next to some of Pfizer's rumored big pharma targets, it looks downright cheap. 
Other oft-mentioned companies in the liminal zone between big biopharma and snackable biotech aren't as appealing. The shine has very much come off Allergan  -- there's no more tax- inversion benefit to acquiring the company, and pipeline and generic competition issues abound. Shire PLC's reliance on the rapidly shifting hemophilia market is a concern. And Biogen Inc. has a slowing multiple sclerosis franchise and too much value tied up in its highly risky Alzheimer's program.
If Pfizer is willing to consider something a little smaller, Vertex Pharmaceuticals Inc. and Alexion Pharmaceuticals Inc. are interesting options. There's less in the way of synergies available from these deals and questions loom over Vertex's elevated valuation and the longevity of Alexion's lead product. But these companies also offer plenty of diversifying high-margin growth from two of the pharma industry's premiere rare-disease drug franchises. 
A megadeal is missing from Ian Read's resume, and not by his choice. Narrowing his list down may be a prelude to filling that gap. 
Before it's here, it's on the Bloomberg Terminal.
LEARN MORE