politics
Fired EPA Employee Details 'Wasteful' Pruitt Spending
By and
He tells of retaliation in interview with Democratic lawmakers

Democrats urge Trump in letter to review latest disclosures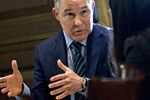 A former employee who objected to Scott Pruitt's spending at the Environmental Protection Agency has "painted an extremely troubling picture" of waste, unethical behavior and "potentially illegal" actions by the agency's administrator, said House and Senate Democrats.
The lawmakers on Thursday detailed their "grave concerns" in letters to Pruitt and President Donald Trump after interviewing Kevin Chmielewski, the EPA's former deputy chief of staff for operations, who said he was put on leave after refusing to retroactively approve first-class travel for one of Pruitt's top aides.
Over eight pages, the Democrats detail point-by-point how Chmielewski corroborated recent reports alleging questionable spending and actions at the EPA under Pruitt. The lawmakers said Chmielewski also provided new, troubling information about Pruitt's $50-per-night rental of a bedroom in a Capitol Hill condominium from a lobbyist, his reliance on first-class travel, and a pattern of retaliating against employees who didn't go follow his commands.
Among the concerns: Chmielewski said Pruitt's pricey travel around the globe was frequently dictated by his desire to visit specific cities and countries, not by legitimate government business, and that EPA staff were asked to find events to justify the trips, including frequent visits to the administrator's home state of Oklahoma.
Read More: The Man Behind Pruitt's Costly Security Once Chased Mobsters
The letter to Trump follows a Twitter message by the president on April 7 that appeared to brush aside concerns about Pruitt's conduct. "While security spending was somewhat more than his predecessor, Scott Pruitt has received death threats because of his bold actions at EPA," Trump said.
"Given your recent statements about Administrator Pruitt's ethical troubles, it appears you may not have received all the facts surrounding Administrator Pruitt's spending, security arrangements, travel, living arrangements and personnel actions," the lawmakers told Trump in their letter. Once the president examines the matter more closely, it will be clear he should "hold Administrator Pruitt accountable for his serious ethical lapses" and "restore honest, competent leadership to EPA," the Democrats said.
The letters were sent by Senators Tom Carper of Delaware and Sheldon Whitehouse of Rhode Island, as well as Representatives Don Beyer of Virginia, Elijah Cummings of Maryland, and Gerry Connolly of Virginia.
That followed a meeting with Chmielewski, a former aide to Trump's presidential campaign they say "described himself as a lifelong Republican" and "a strong supporter" of the president. Trump, at a 2016 rally, described Chmielewski as "a star."
The Latest: Trump Defends EPA Administrator's Spending, Condo Lease
EPA spokesman Jahan Wilcox didn't address specific allegations but previously has described Chmielewski as being among "a group of disgruntled employees" dismissed or reassigned within the agency. "We will respond to members of Congress through the proper channel," Wilcox said by email on Thursday.
In his congressional interview, Chmielewski buttressed an array of recent ethical allegations involving Pruitt, including assertions the EPA chief wanted to use sirens so his government vehicle could more swiftly navigate traffic, including en route to the airport, meetings and social events; that a top aide helped Pruitt hunt for housing in Washington; and that a former EPA associate administrator didn't report to work for weeks.
The EPA's inspector general is reviewing allegations that the outgoing policy adviser, Samantha Dravis, was compensated as a full-time employee even though she didn't work for much of November through January.
Chmielewski also disputed Pruitt's public claims he "didn't know" about raises worth tens of thousands of dollars a year awarded to two top aides over the White House's objections, telling lawmakers the salary boosts were "100 percent Pruitt himself."
Pruitt's Condo Deal, Travel Draw Rebuke From Top Ethics Official
According to the letter, Jennifer Locetta, White House associate director of presidential personnel, assured Chmielewski that one of those raises wouldn't be approved -- before the EPA made it happen anyway, by invoking obscure hiring authority under an environmental law.
The lawmakers said Chmielewski described a culture of intimidation and fear at the agency, and that he was warned about it during his first days on the job, when EPA Chief of Staff Ryan Jackson offered him this quixotic welcome: "The nightmare is now yours."
According to the letters, Chmielewski discocvered early on that employees "got in trouble" for trying to learn more details about Pruitt's spending, travel and security efforts. "He watched as others were punished, demoted and retaliated against when they tried to resist inappropriate directions" from Pruitt or favored staff, the lawmakers said.
Italian Job
Chmielewski described the purchase of bulletproof vests, weapons, and "one or more new SUVs" for Pruitt's travel, as well as a contract with a private Italian security personnel," apparently for the administrator's visit to Italy in June. The letter also said Pruitt surpassed the $5,000 budget he was given to redecorate his office, by purchasing an additional standing desk, paying to rent art from the Smithsonian Institution, and framing an 8-by-10-foot American flag.
That came on top of the construction of a soundproof phone booth at EPA headquarters at an installed cost of nearly $43,000, and the installation of biometric locks. Some security-related spending on Pruitt's office was considered outside the $5,000 limitation, according to emails released to the watchdog group American Oversight under an open records request.
Chmielewski also shed new light on Pruitt's encounters with the landlord who rented the administrator a bedroom steps away from the Capitol for nearly six months in 2017. The unconventional arrangement allowed Pruitt to pay $50 rent only for the nights he stayed there, even though he could leave some belongings on site.
During a speaker-phone conversation that Chmielewski said he overheard, the landlord's spouse, energy lobbyist J. Steven Hart, complained that Pruitt hadn't paid rent and that his daughter had "damaged his hardwood floors by repeatedly rolling her luggage across the unit" while staying there.
Before it's here, it's on the Bloomberg Terminal.
LEARN MORE