politics
Syria Projects Veneer of Normalcy as U.S. Military Threat Looms
By
'Disappointment' awaits Trump if he attacks, newspaper says

Attack on Syria seen leading to big regional war, analyst says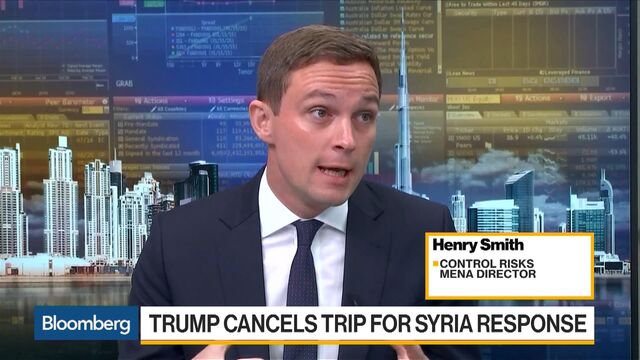 On Syrian state-run TV's "Good Morning" daily show, it was business as usual on Wednesday, with a lineup focusing on mental illness, recycling and a book fair.
Streets in the capital, Damascus, were packed, food kiosks were dishing out breakfast, and government-run newspapers ran images of President Bashar al-Assad, looking relaxed in an open-necked white shirt and dark blazer, meeting with families of Syrians held by Islamic groups.
There was little sense on Wednesday that the country was living under the threat of an impending U.S. military strike. President Donald Trump has vowed to respond "forcefully" to a suspected chemical weapons attack that killed dozens in a rebel holdout near Damascus over the weekend.
"There is no fear," former Syrian lawmaker Sharif Shehadeh said by phone from Damascus. "We are living our life normally and that's an expression of defiance. You think if we stayed at home, the U.S. won't strike?"
While Shehadeh said he expected a regional war engulfing Israel to ignite in the event of a U.S. attack -- "Russia, Iran and Hezbollah will not watch silently," he said -- the photos of Assad calmly going about ceremonial presidential duties were true to form: His regime has scrupulously maintained a veneer of normalcy throughout Syria's seven-year conflict, meant to show it's still functioning and in control.
An editorial in state-run al-Thawra newspaper on Wednesday said President Trump's schedule, packed with "lies and insanity, may lead to the folly of another aggression."
"It is also saturated with foolish steps that will lead inevitably and disastrously to the opposite of everything he has planned," the editorial added. "He should only expect disappointment as a result."
Before it's here, it's on the Bloomberg Terminal.
LEARN MORE