Negotiator warns against Britain seeking competitive advantage

Sticking to environmental standards would keep EU red tape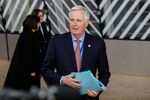 The U.K.'s trade agreement with the European Union must ensure there's no reduction in environmental standards after Brexit, the EU's chief negotiator, Michel Barnier, said as he warned Britain could otherwise seek a "competitive advantage."
To guard against any softening of rules in Britain after Brexit, a "non-regression clause" must be included in the EU's agreement on its future relationship with the U.K., Barnier said. Ever since the British voted to leave the bloc in 2016, Brussels has worried the U.K. will seek to re-invent itself as a low-regulation sanctuary that will undercut the bloc's economic model and lure business.
A commitment to uphold the EU's rules "should prevent any reduction of the key pre-Brexit standards," Barnier told the European Parliament in Brussels. "A strong level playing field requires effective oversight and enforcement of environmental rules."
The clause could be included in the political declaration on the two sides' future relationship that will sit alongside the treaty on the U.K.'s withdrawal due for conclusion in October. Barnier suggested that if Britain didn't make such a commitment, the EU's 27 countries might not approve the deal.
"There will be no ambitious partnership without common ground on fair competition, state aid, guarantees against tax dumping and social standards and, not least, environmental standards," Barnier said. "Without a level playing field the U.K. could, now or in the future, decide to reduce environmental protection to gain competitive advantage."
Environmental standards are one of the most developed areas of EU legislation that Britain has helped shape over the past 40 years. The EU demand for the U.K. to uphold future European rules highlights a dilemma for Theresa May's government, one of whose arguments for leaving the bloc was to free itself and British business from EU red tape.
Before it's here, it's on the Bloomberg Terminal.
LEARN MORE