politics
Trump Readies Syria Response, Cancels Trip and Marshals Allies
By and
Pence to travel in his place to weekend Latin American summit

Confers with European leaders on countering chemical attack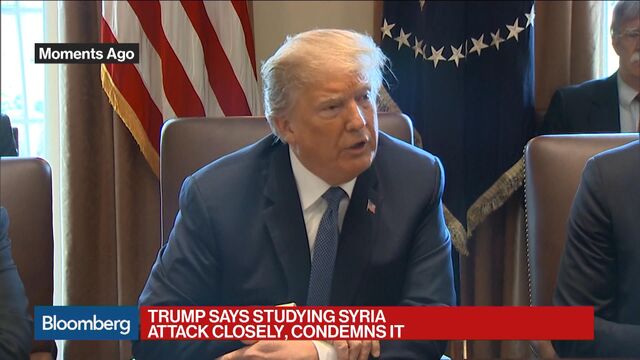 President Donald Trump intensified preparations for a U.S. response to a suspected chemical weapons attack in Syria, canceling a planned trip this weekend to South America and conferring with European allies on retaliatory steps.
Trump spoke by phone Tuesday with U.K. Prime Minister Theresa May. Both leaders condemned Assad's "vicious disregard for human life," and "agreed not to allow the use of chemical weapons to continue," the White House said in a emailed statement on the call.
The U.S. president spoke twice this week with French President Emmanuel Macron to coordinate a Syria response, said a person familiar with the matter.
Trump hasn't made a final decision on a response, and continues to meet with national security staff on the matter, an administration official said.
Trump said late Monday that the U.S. will respond "forcefully" to a suspected chemical weapons attack by Syrian President Bashar al-Assad's regime over the weekend, after suggesting earlier that Russian President Vladimir Putin may share responsibility. He would not describe the U.S. response or say when it would come. "I don't like talking about timing," he said.
The development also comes a day after the FBI raided the office of Trump's personal lawyer, Michael Cohen, based on information gathered in Special Counsel Robert Mueller's investigation of Russian interference in the 2016 election. That news caused Trump to lash out at Mueller to reporters late Monday, describing the FBI raid as a criminal act and an "attack on our country."
Some of Trump's allies encouraged him to respond by firing Mueller, FBI Director Christopher Wray or Deputy Attorney General Rod Rosenstein, who is supervising Mueller's probe and approved the raid. Trump entertained a question about firing Mueller while speaking with reporters, but did not say whether he was considering the move.
Tensions in the Middle East escalated even higher early Monday with an airstrike by unknown warplanes against a Syrian airbase. Russia blamed the raid on Israel, which hewed to its customary no-comment policy.
The White House announced Tuesday morning Vice President Mike Pence would travel in Trump's place to the Latin American summit. The administration had already scaled back the trip in recent weeks, and one planned meeting with Peru's president was canceled after he resigned amid corruption allegations.
"There's a high bar for a president ever canceling a foreign trip," said Michael Singh, former senior director for Middle East affairs at the National Security Council under President George W. Bush and managing director at the Washington Institute for Near East Policy. Once arrangements for meetings and travel are made, logistics are put in place, money spent and diplomatic negotiations executed, "It's not something you do casually."
At the same time, Singh said past presidents have canceled or postponed trips to remain in the U.S. to deal with domestic and foreign policy crises. While the president has all the communications and support tools he needs to run a virtual White House from anywhere in the world, Singh said there may be no substitute for being able to sit down in the same room with key advisers.
"There's a symbolic element as well," Singh said. Canceling the trip allows Trump to show he is personally engaged and takes the stakes seriously. "The U.S. ordering a military strike against another country is pretty serious business," Singh said. The change in travel plans is another indication Trump is leaning toward a military strike, he said.
Trump's decision to scrap the trip further dims prospects for the announcement of a deal in principle to rework the North America Free Trade Agreement at the summit. Negotiators from the U.S., Canada, and Mexico continue to meet in Washington this week in hopes of striking an agreement to rework the accord, and the Trump administration had pushed to announce a framework agreement at the summit. Mexico's economy minister said Monday he sees an 80 percent chance of a deal being reached by the first week of May.
Trump told reporters on Monday the U.S. was "strongly renegotiating" Nafta and that he sees "a chance to make a deal."
"We are fairly close on Nafta and if we don't make the right deal we'll terminate Nafta and we'll make the right deal after that," he said.
Trump is also scheduled to meet with Japanese Prime Minister Shinzo Abe following the summit at his private Mar-a-Lago estate in Palm Beach, in a discussion the White House said would focus on trade and investment issues as well as Trump's upcoming meeting with North Korean leader Kim Jong Un. The White House has not yet said whether the president still plans to meet Abe in Florida.
Jarrod Agen, Pence's communications director, said in a statement that the vice president "is honored to represent the United States at" the Latin American summit. Pence traveled to the region last year for meetings with several leaders and is scheduled to travel next month to Brazil, Agen said.
— With assistance by Josh Wingrove, and Tim Ross
Before it's here, it's on the Bloomberg Terminal.
LEARN MORE