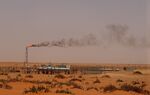 Now we're getting to it.
Bloomberg's Javier Blas reported Tuesday morning that Saudi Arabia's government appears to be targeting an oil price of about $80 a barrel. This isn't an official, public target; it's a conclusion drawn by sources from conversations with Saudi officials. But it makes sense. OPEC has signaled that its current public target of reducing commercial oil inventories to the five-year average needs updating (with good reason).
More important, any target that revolves around inventories or supply quotas is really just a means to an end. For petro-states, what ultimately matters is revenue -- and what matters for revenue is the price they receive for oil. And for Saudi Arabia, $80 looks about right:
Besides the country's fiscal break-even price, $80-a-barrel gets the potential valuation of Saudi Arabian Oil Co., or Saudi Aramco, closer to the $2 trillion level Crown Prince Mohammed bin Salman has put out there (although that would still require heroic assumptions about domestic oil subsidies and risk premiums; see my math here).
The only problem with $80-a-barrel oil is that two other broad participants in the market also get a taste of it: U.S. producers and global consumers.
Start with those shale types. For them, $60-ish oil has proven quite the tonic already. Output from the Permian basin has accelerated so quickly that it is running into logistical constraints, causing oil priced at Midland, Texas, to suddenly suffer steep discounts compared with the benchmark U.S. price -- referencing the Cushing, Oklahoma, hub -- and international grades like Brent:
For Saudi Arabia, those discounts are a good thing. Lower pricing for Permian producers means less cash flow and capacity to hedge, which ultimately erodes the future production expected to weigh so heavily on global oil markets over the next few years. In a report published Tuesday, analysts at Sanford C. Bernstein estimate that current Permian output of 3.1 million barrels a day has almost maxed out pipeline capacity of 3.2 million a day. While new capacity is scheduled to arrive in various stages over the next couple of years, the analysts estimate a rising amount of oil, up to about half-a-million barrels a day, will need some other egress between now and the second half of 2019 -- unless, of course, big discounts on local pricing discourage production.
With Brent at about $70 a barrel, that could happen. Transporting oil by rail to the Gulf Coast from West Texas costs perhaps $8 a barrel; trucking it $10 or more. The implication is that the truly marginal barrel might fetch less than $60 -- in which case, it might not get produced at all in the near term. But if Brent reached $80, even those Permian producers forced to truck their barrels south could get $65 to $70 for each of them, which is likely good enough until the midstream cavalry arrives. After all, it's that sort of pricing that has brought the basin to its current situation.
At the same time, $80 crude oil would represent an extra burden on the global economy. As I wrote here, the link between oil pricing and consumption appears to have strengthened in recent years, even in major growth markets such as India and China.

This analysis chimes with a new report on OPEC policy from Bassam Fattouh and Andreas Economou at the Oxford Institute for Energy Studies. They conclude that while OPEC's targets, and much of the analysis around them, focus on supply, shifts in demand played the most important role in raising oil prices in 2017, the first year of supply cuts. Cheaper oil encouraged more consumption, helping to offset the recovery in non-OPEC supply.
Efforts to raise oil prices further risk testing this relationship with demand, working to suppress rather than buoy it. This gets to the heart of Saudi Arabia's problem: A boost to its short-term economic well-being is at odds with much of the wider world's.
Weakening the link between Saudi Arabian prosperity and oil prices is, of course, the ultimate goal of the country's reform effort, but that is a long way off. In the meantime, Riyadh would happily take $80 oil, even if it offers relief to rivals in Texas and a tax most everywhere else.

-- Graphic assistance from Dimitrios Pogkas
Before it's here, it's on the Bloomberg Terminal.
LEARN MORE