markets
Tech Under Trump, Banks Under Obama: A Pattern Repeats in Stocks
By
FANG's performance now looks eerily similar to lenders in 2010

Yet Facebook, Amazon view lower political risk than others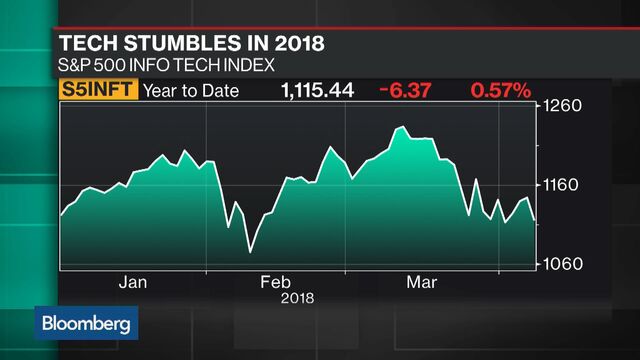 Is it high valuations, fund outflows or excessive earnings optimism that has been knocking technology stocks around? One chart suggests a different culprit: the threat of government regulation.
That's the contention of Strategas Research Partners LLC, which has a chart purporting to show similarities in the path of tech giants now and banks eight years ago. The research was published as Facebook Inc. Chief Executive Officer Mark Zuckerberg is due to testify to Congress this week in the midst of the worst privacy crisis in the social-media company's history.

While the two industries have few fundamentals in common, they may share a common enemy in the government, according to Daniel Clifton, head of policy research at New York-based Strategas. In 2010, banks in the S&P 500 Index peaked relative to the market in May, the same month when the Senate approved a sweeping overhaul of Wall Street regulation under President Barack Obama.
Today's FANG block of Facebook, Amazon, Netflix and Google has traced a similar pattern, beating the market by a huge margin over the six months through March until Facebook's privacy scandal and President Donald Trump's attack on Amazon sent the stocks reeling.
"FANG stocks' relative performance today is trending very similar to the banks' in 2010 as the regulatory axe began to swing in President Obama's first midterm election year," Clifton wrote in a note Monday.
Investors could be forgiven if they were blindsided. Using a model that tracks the proportion of words dedicated to government risk in 2016 regulatory filings, Strategas found that the FANG complex reported the government as a threat less often than most companies. Incidence of such words were 8 percent for Facebook and 10 percent for both Amazon and Google's parent Alphabet. That's less than half what firms like Microsoft and Walt Disney had.
Before it's here, it's on the Bloomberg Terminal.
LEARN MORE