politics
Cohen Asks Judge to Toss Stormy Daniels Defamation Claim
By
Cohen harmed adult film star by calling her a liar, she says

Claim is part of Daniels suit to break non-disclosure pact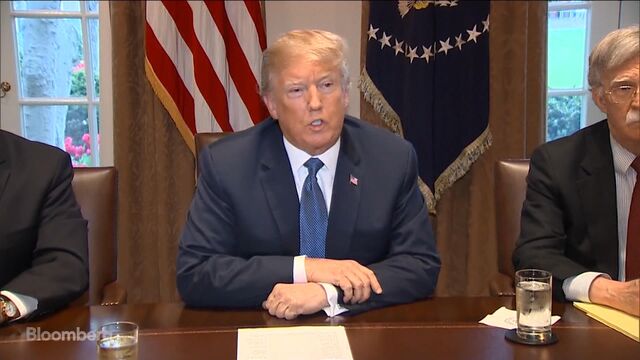 Michael Cohen, the longtime Donald Trump lawyer whose office was raided by federal agents on Monday, asked a federal judge to throw out a defamation claim made against him by adult film star Stormy Daniels.
Cohen on Monday asked U.S. District Judge James Otero in Los Angeles to dismiss the allegation from a suit filed in March in which Daniels, whose real name is Stephanie Clifford, seeks to get out of a non-disclosure agreement barring her from talking about an alleged affair with Trump.
The request was filed just as Cohen's legal troubles were multiplying well beyond a defamation claim. Investigators executed a search warrant on Monday to enter his office and a hotel room in New York as part of a probe into potential financial crimes that relates at least in part to Clifford's lawsuit.
Cohen, who has denied wrongdoing, wants Otero to force the dispute into a private arbitration rather than public trial. Clifford says in her suit that Cohen defamed her by wrongfully portraying her as a liar in his public comments about the case.
Cohen's lawyer, Brent Blakely, said in the filing that the defamation claim "appears to be a desperate attempt by plaintiff to keep at least a portion of this case out of arbitration." He added that Clifford hasn't suffered damages.
Clifford "has boasted that her pay has quadrupled because of the publicity of the instant lawsuit and her allegations about Mr. Trump in February 2018," the filing says.
"We are confident the motion will be rejected," Clifford's attorney, Michael Avenatti, said by email. On Sunday Avenatti renewed a request for permission to depose Trump and Cohen under oath in preparation for a possible trial.
The subject of the defamation claim is a written statement issued by Cohen in February in which he said, "Just because something isn't true doesn't mean that it can't cause you harm or damage. I will always protect Mr. Trump." Clifford says the statement portrays her as a liar, while Cohen says it was hyperbole and, more important, was accurate.
"Plaintiff herself has repeatedly and specifically denied having any intimate relationship with Mr. Trump, on at least three occasions," Cohen said in the filing, citing denials Clifford made in 2011 and twice in January 2018.
But Clifford has said she was coerced into making the denials, even claiming on "60 Minutes" that someone threatened to harm her if she talked. Cohen has denied any involvement in the alleged threat.
"Plaintiff either lied then or is lying now," Cohen said in Monday's filing.
Cohen also argued in the filing that the defamation claim is invalid because his remark about Daniels, whom he paid $130,000 to keep silent about the alleged affair, was backed by the First Amendment and related to "matters of public interest."
Before it's here, it's on the Bloomberg Terminal.
LEARN MORE