politics
New York City Council Speaker Seeks Half-Price Subway Rides for the Poor
By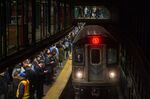 Corey Johnson, the speaker of the New York City Council, said he will push for half-price subway and bus fares for residents living at or below the federal poverty line.
Such proposals have gained momentum among advocates for the poor during the past year. Mayor Bill de Blasio, a fellow Democrat, supported the idea earlier this year as he proposed a millionaire's tax that would raise $800 million for mass transit. The half-fares would cost the city about $250 million, de Blasio said.
The program would help about 800,000 New Yorkers save as much as $726 a year, Johnson said. The money would come from rearranging spending proposed earlier this year by the mayor, and increased revenue projections, Johnson said. Eligibility would be determined according to the federal poverty limit, which qualifies families of four earning under $24,000 a year. About 22 percent of the city's 8.6 million residents live in poverty, he said.
"It invests in our economic activity in New York City by helping New Yorkers who can't afford to get on the subway actually be able to afford a Metrocard, and it also would probably help with fare evasion, which is a crime that primarily affects poor people," Johnson said Tuesday on WNYC radio.
Before it's here, it's on the Bloomberg Terminal.
LEARN MORE