markets
Kremlin-Cozy Firms Go From Bond Darlings to Ticking Bombs
By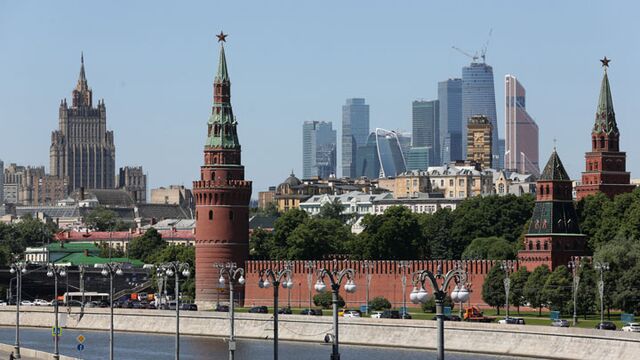 Once, a company's proximity to the Kremlin was a safety net of sorts for bond investors. No longer.
The toughest U.S. sanctions to date mean it's unclear how state banks could help United Co. Rusal and En+ Group Plc without being hit by penalties themselves. That could be a game changer for traders used to the Kremlin stepping in when companies have fallen on hard times in the past.
"When analyzing credit risk, proximity to the Kremlin used to be seen as a positive, especially for companies that aren't sanctioned," said Yannick Naud, head of fixed income at Banque Audi in Geneva. "Going forward it could be somewhat different and potentially damaging."
As Rusal warned that the sanctions could trigger technical defaults on its debt, Prime Minister Dmitry Medvedev ordered his cabinet to come up with ways to assist the affected companies. The market volatility isn't a threat to financial stability, but the central bank has all necessary instruments to react if needed, Bank of Russia Governor Elvira Nabiullina said on Tuesday.
Bonds of many of the the largest Russian companies tumbled this week as traders digested the fresh wave of penalties. Securities sold by Polyus PJSC in January fell more than 15 cents on the dollar and extended declines on Tuesday, while yield on state-run VTB Bank's 2022 dollar bonds jumped 162 basis points in the past two days.
Steep Losses
Investors who snapped up $1.6 billion of bonds from Rusal over the past two years are now facing steep losses. Newfleet Asset Management, based in Hartford, Connecticut, is among bondholders listed as having had the most exposure to debt issued by Rusal, according to the most recent regulatory disclosures compiled by Bloomberg. Credit Suisse Group AG and France's Amundi SA are also named as holders of the Moscow-based firm's securities.
Euroclear Bank SA on Tuesday said it's assessing the new U.S. sanctions to ensure it remains fully compliant with the requirements and is taking appropriate steps, according to its press service. It declined to comment on whether it's clearing Rusal bonds.
(
Updates with central bank, bond investors from fourth paragraph.
)
Before it's here, it's on the Bloomberg Terminal.
LEARN MORE