economics
Five Things You Need to Know to Start Your Day
Get caught up.
By and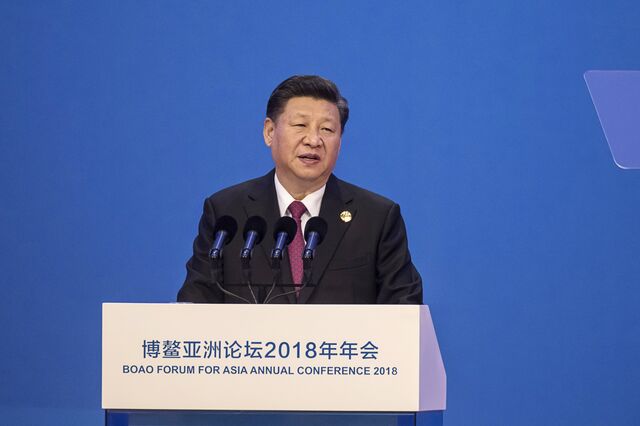 Want to receive this post in your inbox every morning? Sign up here
Investors breathe a sigh of relief after some positive comments from the leaders of the U.S. and China on trade, while oil and aluminum bulls get some good news and Facebook's Mark Zuckerberg testifies to Congress for the first time. Here are some of the things people in markets are talking about.
Markets Cheer U.S., China Tone
Stocks surged Tuesday following conciliatory comments from U.S. President Donald Trump and Chinese President Xi Jinping aimed at releasing some pressure from a trade dispute between the world's biggest economies. Treasuries and the dollar fell. U.S. equity indexes rose, with the S&P 500 gaining 1.7 percent after Trump praised Xi's "kind words on tariffs and automobile barriers." In a keynote address Tuesday before the Boao Forum for Asia, China's leader backed free trade and dialog to resolve disputes and pledged to open the nation's banking and auto manufacturing sectors. Asian equities looked set for a mixed start Wednesday thanks to a lack of fresh impetus.
But It Isn't All Rosy
It turns out that trade talks between the world's biggest economies broke down last week after the Trump administration demanded that China curtail support for high-technology industries, a person familiar with the situation said, signaling that a resolution may be some ways off. Liu He, a vice premier overseeing economics and finance, told a group of officials Thursday that Beijing had rejected a U.S. request to stop subsidizing industries related to its " Made in China 2025" initiative, the person said. The U.S. has accused China of using the policy to force companies into transferring technology in areas like robotics, aerospace and artificial intelligence.
Good News for Oil and Aluminum Bulls
Oil jumped to the highest since 2014 after Saudi Arabia was said to seek higher prices and amid the overall risk-on mood in markets. The Saudis want to get oil prices near $80 a barrel to pay for the government's crowded policy agenda and support the valuation of state energy giant Aramco before an initial public offering. Aluminum posted the biggest five-day gain since 2009 on fears of supply disruptions after United Co. Rusal was hit by U.S. sanctions. Rusal's shares fell, while other producers climbed on optimism they will benefit from the company's woes.
A Flood of Junk Issuance in China
A challenge for investors all over the world, corporate governance is becoming a particularly thorny hurdle for investors in China's bond market as the amount of low or unrated borrowers swells. Investors have been lulled by years of implicit support for troubled local companies, but now with Beijing pulling back and allowing defaults, that buffer isn't there anymore. With China's dollar bond market coming off a record year for sales, the uptick in lower-quality issuance could spell trouble ahead. Bonds issued by high-yield and unrated companies have climbed to 55 percent of total sales this year, the most since 2011.
Coming Up…
Wednesday is inflation day, though it may turn out to be not so inflating. Japan reports PPI before China reports CPI and PPI, and economists forecast that all three will show a slower pace of price gains. Also of some potential interest will be Australian consumer confidence, which may retreat amid trade war angst and after the country's business sentiment fell back from recent peaks. And North Korea's parliament is set to convene amid speculation the isolated nation may drop from its constitution a reference stating that it's a nuclear power. Later on in the day the U.S. is expected to report core inflation climbed to reach the Fed's 2 percent target, while the FOMC will release minutes from its March meeting.
What we've been reading
This is what caught our eye over the last 24 hours.
— With assistance by Garfield Clinton Reynolds, Lianting Tu, David Yong, and Eric J Weiner