politics
Ex-Army Chief's Rebellion Adds Fuel to Fire in South Sudan's War
By
Malong's move adds yet another militia to four-year conflict

Fighting has caused economic collapse, regional refugee crisis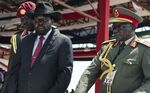 A rebellion by South Sudan's former army chief signals a further escalation in the more than four-year civil war, complicating peace talks just as Africa's youngest nation faces a looming famine.
The announcement by Paul Malong, who led President Salva Kiir's forces before being fired last year, adds yet another armed group to a conflict that's claimed tens of thousands of lives, has been marked by widespread atrocities and caused Africa's largest refugee crisis since it erupted in December 2013.

Malong's rebellion comes amid "what is already a boiling situation in the country," said Augustino Ting Mayai, director of research at the Sudd Institute, a think tank in the capital, Juba. "He has added fuel to the current crisis."
Malong, who moved to neighboring Kenya after his dismissal, was among three current or former South Sudanese officials sanctioned by the U.S. in September for their alleged roles in destabilizing the country. The army he controlled has been repeatedly accused by the United Nations of atrocities including the rape and killings of civilians.
His insurgent group, the South Sudan United Front, on Monday decried "systematic corruption which has devastated the lives of all citizens on a daily basis."
Economic Chaos
A slump in oil production and lower global prices has caused economic chaos in South Sudan, which depends on crude for almost all its revenue. Some areas of the country are on the brink of famine and two-thirds of the 12 million population may face food shortages by May.
Peace talks are due to resume in Ethiopia on April 26 between the government and nine opposition groups, not including Malong's. The negotiations seek to revive a 2015 agreement that shattered in mid-2016 weeks afters its enactment, ushering in more violence and fresh rebellions in the southern Equatoria region.
Malong in his statement didn't say how many fighters he commands. Presidential spokesman Ateny Wek Ateny said by phone that Malong's declaration was "overdue" and the ex-army chief had "never worked on anything good for the country."
"If he is going to fight South Sudan, he should understand that the same people that he was using to fight the rebels are the same people who will fight him," Ateny said.
Analyst Mayai said that although Malong may find it difficult to muster large-scale support because of South Sudan's ethnic divisions, any rebellion he does organize is likely to extend the conflict.
It "is going to be tough for him in terms of human resources to wage a full-scale war," Mayai said by phone.
Before it's here, it's on the Bloomberg Terminal.
LEARN MORE