politics
EU's Donald Tusk Says He's Sometimes Furious About Brexit
By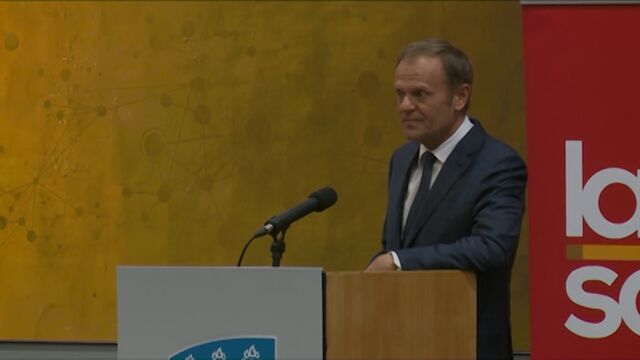 European Council President Donald Tusk said he's saddened by the U.K.'s decision to exit the bloc.
"I don't like Brexit," Tusk said in a speech in Dublin on Tuesday. "Actually, that's an understatement: I believe Brexit is one of the saddest moments in twenty first-century European history. In fact, sometimes I am even furious about it."
"We have many reasons to be satisfied, as a generation which has united Europe," he said. "But we have as many reasons for concern, as a generation that could still unfortunately make it to the gloomy and for sure spectacular show of another European disunion."
Tusk said his focus in the short term will be on Brexit "damage control," with an aim to limit the ripples from Britain's departure from the EU. Ireland would be at the "center" of those efforts, he said.
The U.K. hasn't yet put forward an alternative "backstop" solution for the Irish border, with Brexit negotiations making slow progress since last month's summit breakthrough, people familiar with the talks said.
While the British government has acknowledged the need for a backstop option should no other solution emerge in the course of talks over the two sides' future trading relationship, it doesn't accept the EU's version. This would create a border between Northern Ireland and the U.K. mainland and is opposed by the Northern Ireland's Democratic Unionist Party, which props up Theresa May's minority government.
(
Adds Tusk comments in fourth paragraph.
)
Before it's here, it's on the Bloomberg Terminal.
LEARN MORE