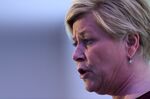 Norway has declined a request by its $1 trillion sovereign wealth fund to be allowed to invest in private equity. With too much money chasing too few deals at ever-higher valuations, the government is probably right to maintain its prohibition.
A November study commissioned by the Norwegian finance ministry from McKinsey & Co. calculated that the private equity market has grown by about 10 percent per year since 2005, with about $2.5 trillion in assets under management.
That money is already struggling to find homes. The volume of private equity deals increased by less than 10 percent between 2015 and 2017, even as money flowed into the asset class.
As a result, the total amount allocated to private equity but not yet invested has reached more than $1 trillion, according to figures compiled by alternative asset data company Preqin Ltd.
Norway's fund would have been a latecomer to the party too. McKinsey estimated in November that sovereign funds have more than doubled their allocation to private equity to 8.5 percent of assets from 4 percent in 2000. The median fund, though, was still 4.2 percentage points shy of its target allocation.
"The outstanding question is not demand, but supply," McKinsey wrote in its 2018 report on private markets. Infrastructure is particularly popular. "While many new projects are seeking investors, public–private partnerships and privatization opportunities globally are harder to find," the consultancy firm said.
As you might expect given that supply/demand imbalance, valuations have surged. Deal multiples are at their highest in at least a decade:
The current arrangements for the sovereign wealth fund are "transparent, responsible, long-term and cost effective," Norwegian Finance Minister Siv Jensen said on Tuesday. Adding private equity to the investment mix would risk undermining that transparency, she said. The cost-effectiveness might have been a problem too.
As frustrating as it might be for the fund's managers, she's made the right decision given how crowded that market has become.
Before it's here, it's on the Bloomberg Terminal.
LEARN MORE