'No Direct Confrontation': Investors Voice Relief at Xi's Speech
By , , and
U.S. futures, Asian stocks jump as Xi backs free trade

Comments 'leaned toward opening' of China economy: IG Asia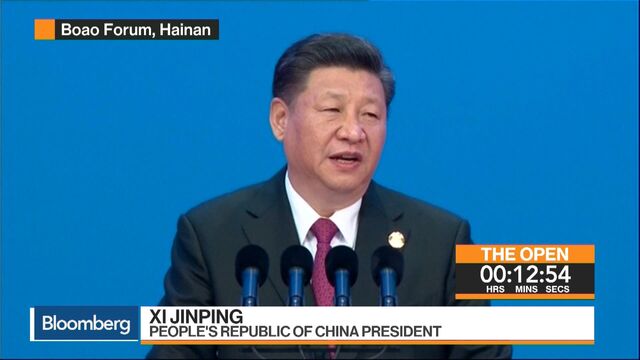 For investors and analysts watching Chinese President Xi Jinping's landmark economic speech Tuesday, the mood was one of relief.
Asian stocks and U.S. futures jumped in Asian morning trading as Xi called for an upholding of the multilateral trade system and said dialogue was the way to resolve disputes, diffusing trade tensions with the U.S. In his keynote address to the Boao Forum for Asia, Xi vowed to open sectors of China's economy from banking to auto manufacturing, increase imports and expand protection to intellectual property.
"There's no direct confrontation" with the U.S., said Peter So, co-head of research at CCB International Securities Ltd. in Hong Kong. This suggests "possible room for improvement over the trade dispute."
The MSCI Asia Pacific Index climbed as much as 0.8 percent and hit a session high after Xi started speaking. Japan's Topix index, Hong Kong's Hang Seng Index rose at least 1 percent, while S&P 500 Index futures jumped as much as 1.5 percent.

Here are some other investor reactions:
Long-Term View
"If the leader of China can take a long-term view, I think that is ultimately a big market positive," said Sunny Bangia, deputy portfolio manager at Antipodes Partners Ltd. in Sydney. "Stability of government can create policy stability, long-term solution-focused government and less" noise.
Opening Up

"Obviously, the Chinese leader has the difficult task of balancing the defense of Chinese interests and championing free trade," said Jingyi Pan, a market strategist at IG Asia Pte. "That being said, early comments leaned towards the opening of the Chinese economy and that appears to have been taken rather positively."
Conciliatory Gestures
"Xi's remarks on expanding imports and broadening market access are seen as conciliatory gestures to ease the trade frictions," said Ken Chen, Shanghai-based strategist with KGI Securities Co. "For China with a trade surplus with the U.S., it certainly doesn't want the trade dispute to develop further."
Rational Response
"Markets will welcome this rational, measured response from President Xi," said Ben Kwong, executive director in Hong Kong at KGI Asia Ltd. "By emphasizing that China will seek cooperation with other countries to achieve a win-win solution, Xi is projecting himself as the gentleman here. Of course there's still a lot of uncertainty, especially around how Trump will react. This is why we're not seeing a hugely positive market reaction quite yet, but it's clearly a step in the right direction."
Room to Negotiate

"We've always had the position that there's quite a lot of room to negotiate," Ken Peng, an investment strategist at Citi Private Bank in Hong Kong, said of the trade frictions. "The goal of reducing bilateral trade imbalance, that's actually consistent with what China wants to do anyway. It cannot be expected to happen overnight. So, I think, there's quite a lot China can do, to address concerns that the U.S. has."
Roles Reversed

"Xi's remarks are something people would have expected the U.S. to say," said Ayako Sera, a market strategist at Sumitomo Mitsui Trust Bank Ltd. in Tokyo. "Xi's mature reaction is giving a sense of relief in the market. But that doesn't mean the trade frictions are over. Trade concerns have eased but they haven't gone away."
Not Over

"His speech calms the nerves a lot," said Linus Yip, a strategist at First Shanghai Securities. "The concern about trade disputes in near term is still here, however, since what Xi pictures is a very long-term picture."
Trade tensions are likely to continue as "political considerations will dominate" ahead of the mid-term elections in the U.S., said Alan Richardson, a fund manager at Samsung Asset Management Ltd in Hong Kong.
"China is not interested in a trade war, for sure, but the U.S. is not bluffing, either," Hans Goetti, founder of HG Research, said by phone from Singapore. "Markets would always react to what the last guy said and will fluctuate and show nervousness."
— With assistance by Kana Nishizawa, Sofia Horta E Costa, Jeanny Yu, Amanda Wang, En Han Choong, Livia Yap, and Min Jeong Lee
Quotes from this Article
Before it's here, it's on the Bloomberg Terminal.
LEARN MORE