politics
Trump Watchdog Tells Banks He Really, Really Likes Them
By
OCC chief Otting tells crowd of lenders he's on their side

Banks are the 'customers' his agency is serving, he says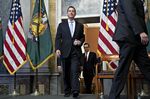 Former banker Joseph Otting told a crowd of bankers that his Office of the Comptroller of the Currency is doing its best to make life easier for them -- a sentiment that might have been surprising when the 2008 financial crisis was more fresh in the public's memory.
"I like bankers." That was Otting's opening line to community bankers gathered in Washington on Monday. He said the OCC -- which regulates more than 1,000 lenders, from the little guys to the Wall Street giants -- is trying to improve its "responsiveness to our customers, which are the banks."
The OCC was one of the three U.S. bank regulators that put tougher regulations in motion after the crisis. Otting was a banker in those days, first as an executive at U.S. Bancorp and then running OneWest Bank as president and chief executive officer. He described that work as being a "dream-maker" for borrowers. As the first banker in decades to run the OCC, he assured the industry audience that the Trump administration "is very banker-supportive."
After Otting's speech to the Independent Community Bankers of America, the group's chairman climbed to the stage and called his words "refreshing." In fact, he said, Otting already nailed some of the points he wanted to raise in his own remarks.
Otting outlined specific steps he's taking to benefit bankers, including:
Seeking to ease Bank Secrecy Act compliance by making anti-money-laundering rules more flexible; new ideas will be presented to the Financial Crimes Enforcement Network in the next couple of weeks, he says
Continuing talks with other regulators on revising Volcker Rule trading limits, noting that he expects some findings to come out within a month
Trying to "re-decentralize" supervision of banks, reversing a trend to move oversight authorities to Washington
Proposing ideas to broaden what activities can satisfy Community Reinvestment Act requirements; he says he's hoping the Federal Reserve and Federal Deposit Insurance Corp. will join the OCC, but is prepared to go it alone
Moving toward a decision on whether to allow financial technology firms to obtain special-purpose bank charters; he says that he's been "slow-walking" consideration of the controversial topic, but expects to decide within the next 60 to 90 days
Before it's here, it's on the Bloomberg Terminal.
LEARN MORE