markets
Five Things You Need to Know to Start Your Day
Get caught up.
By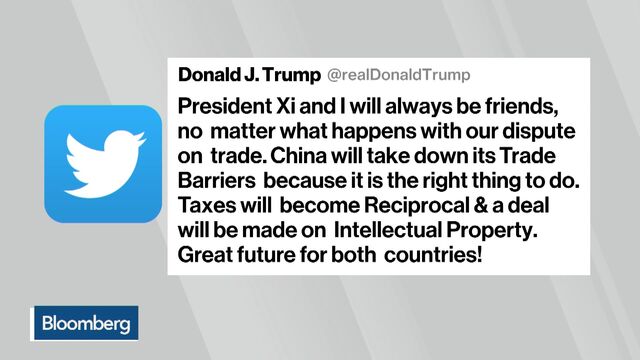 Want to receive this post in your inbox every morning? Sign up here.

Trade tensions endure, Deutsche Bank has a new man at the helm and Asian equity markets are braced for a fall after U.S. equities' Friday slump. Here are some of the things people in markets are talking about.
First to Buckle
U.S. President Donald Trump predicted China will be first to buckle as the world's largest economies teeter on the brink of a trade war. "China will take down its Trade Barriers because it is the right thing to do," Trump told his 50 million Twitter followers early Sunday.  The comments follow a week of rising tensions on trade, punctuated by the president's surprise order late on Thursday that the U.S. identify additional Chinese goods to target and Beijing's immediate vow that it won't back down. Meanwhile, top members of Trump's economic team defended the U.S. actions on tariffs: Larry Kudlow, Trump's top economic adviser, said it will generate "very positive results;" Treasury Secretary Steven Mnuchin said the U.S. objective "is to continue to have discussions with China," while White House adviser Peter Navarro said the threat of tariffs is not merely a bargaining chip. The end result remains to be seen as in China, Trump faces a rising superpower with the economic might to hold its own.
Deutsche Bank CEO Change
Deutsche Bank AG named Christian Sewing to replace Chief Executive Officer John Cryan after less than three years amid mounting questions about the future direction of Europe's largest investment bank. Sewing, a lifelong Deutsche Bank employee, will take over with immediate effect, the lender said in a statement from Frankfurt late Sunday. Garth Ritchie was promoted to sole head of the securities unit and will become president, along with Chief Administrative Officer Karl von Rohr. Cryan and Marcus Schenck, who was co-deputy CEO with Sewing, are leaving the bank. The appointments end weeks of intense speculation about the bank's leadership. 
Coming Up…
Bank of Japan Governor Haruhiko Kuroda speaks on Monday at the start of his second term. Japan also releases its current account balance for February, with the surplus set to widen to 2.2 trillion yen ($20 billion). Machine orders and producer prices are also due this week. China publishes March inflation data on Wednesday. Economists forecast a slowdown to 2.6 percent year on year, from 2.9 percent in February. South Korea's and Singapore's central banks are expected to keep monetary policy unchanged in decisions on Thursday and Friday. Inflation data from China, Japan and the U.S. will be in focus, as will FOMC minutes.  All eyes will also be on Facebook Inc.'s Mark Zuckerberg's appearance before Congress. 
Jittery Markets
Equity markets look set to start the week in much the same vein that characterized last week, with caution. Declines on Japanese and Australian stock index futures follow the deep retreat seen on the S&P 500 late Friday. China equity traders are back at their desks after a holiday. There were no major early moves in currency markets on Monday morning, but that could quickly change with a development on the U.S.-China trade front. The U.S. labor market cooled in March, with the economy adding 103,000 jobs, below consensus. 
Malaysia's China Investments 
Chinese investors in Malaysia will face more scrutiny if former prime minister Mahathir Mohamad wins back power in the upcoming election. Mahathir, the opposition's candidate for prime minister, said in an interview Friday that Chinese investment was welcome if companies set up operations in Malaysia, employed locals, and brought in capital and technology to the country. This wasn't the case now, he said. Mahathir's comments reflect broader concerns about Chinese investment across Asia that have stoked political tensions from Australia to Sri Lanka. 
What we've been reading
This is what caught our eye over the last 24 hours.
(
Removes reference to U.S. Federal Reserve Chairman Jay Powell's speech. 
)
Before it's here, it's on the Bloomberg Terminal.
LEARN MORE