Bond Traders Are About to Grasp the Magnitude of the Treasuries Deluge
By and
CBO set to release updated projections for U.S. budget deficit

Prospect of even higher debt issuance could boost yields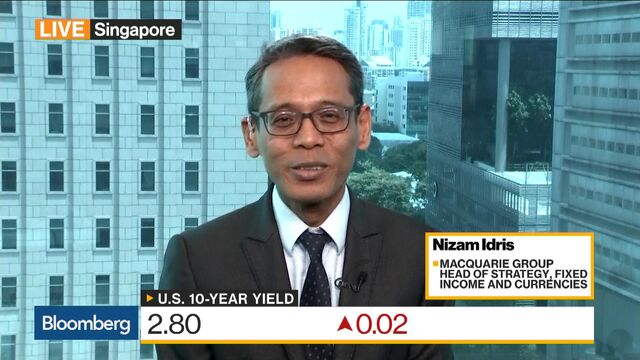 The world's biggest bond market has managed to gulp down a swelling deluge of issuance in recent months. But this week could drive home that an even bigger wave is ahead.
The non-partisan Congressional Budget Office on Monday is set to release its latest projection for the U.S. budget deficit. In June, before the tax overhaul and Congress's decision to ramp up spending over the next two years, the estimate was for a $563 billion shortfall in fiscal 2018, rising to $689 billion the following year. Both of those figures are expected to climb, which would put the onus on the Treasury Department to bridge the shortfall with more borrowing.

Of course, the trajectory of the national debt is already plenty clear -- it's tripled in the past decade. And that phenomenon will play out again this week when the U.S. issues a combined $64 billion in three-, 10- and 30-year obligations, up $8 billion from January.
Rick Rieder at BlackRock Inc. is among investors saying mounting deficits are likely to be a driving force for the Treasury market in 2018. In his view, the prospect of ballooning issuance, combined with quicker inflation and shifting central-bank policies, "truly changes the supply/demand paradigm." With that in mind, Friday's bond rally after job growth missed estimates may prove short-lived.
"The CBO report will certainly restart the conversation on how high deficits are going to be in the coming years," said Gennadiy Goldberg, senior U.S. rates strategist at TD Securities. "The market still hasn't caught on to the fact that deficits in the 2019 fiscal year are going to be immensely higher than this year."
Curve Evidence
The impact of supply is evident in the shape of the yield curve. The U.S. is increasing the size of shorter-maturity note auctions at a faster pace than sales of longer-dated obligations, helping drive the spread between 2- and 10-year securities toward the narrowest in more than a decade.
For holders of bills, the issuance outlook is working in their favor. After rising steadily since mid-2017, rates have plateaued on the expectation that Treasury will reduce bill sales as tax receipts flow in. Once that revenue intake ebbs, however, it remains to be seen how officials will meet the funding gap.
Strategists at Morgan Stanley predict Treasury will resort to bigger coupon auctions, while keeping bill issuance in check. Some firms expect the opposite approach. Morgan Stanley predicts the deficit will rise to $850 billion this fiscal year, from a fiscal 2017 shortfall of $666 billion.
It all adds up to more debt, and that's why bond traders are focusing on the CBO's fresh deficit forecast, to see just how much they'll have to absorb.
"We are, and have been, well above CBO on our deficit estimates for a long time," said Blake Gwinn, a strategist at NatWest Markets. The bond market is likely to use it "as a sanity check."
What to Watch This Week
Minutes of the FOMC's March meeting set for release April 11
The latest read on U.S. inflation is the highlight for economic indicators

April 10: NFIB small business optimism; producer price indexes; wholesale trade sales and inventories
April 11: MBA mortgage applications; consumer price indexes; real average weekly and hourly earnings; monthly budget statement
April 12: Import and export price indexes; jobless claims; Bloomberg April U.S. economic survey; Bloomberg consumer comfort
April 13: Jolts job openings; University of Michigan survey data

A few Fed officials to speak after the minutes

April 12: Minneapolis Fed's Neel Kashkari speaks
April 13: Boston Fed's Eric Rosengren speaks on economic outlook; St. Louis Fed's James Bullard speaks on living standards across U.S. cities; Dallas Fed's Robert Kaplan speaks

Treasury's enlarged coupon auctions remain front and center

April 9: $48 billion of three-month bills; $42 billion of six-month bills
April 10: Four-week bill sale (size to be announced Monday); $30 billion of three-year notes
April 11: $21 billion of 10-year notes
April 12: $13 billion of 30-year bonds
Quotes from this Article
Before it's here, it's on the Bloomberg Terminal.
LEARN MORE