politics
Turnbull Loses 30th Consecutive Poll in Blow to Government
By
Liberal-National coalition trails Labor yet again in Newspoll

Turnbull used same measure as rationale for toppling Abbott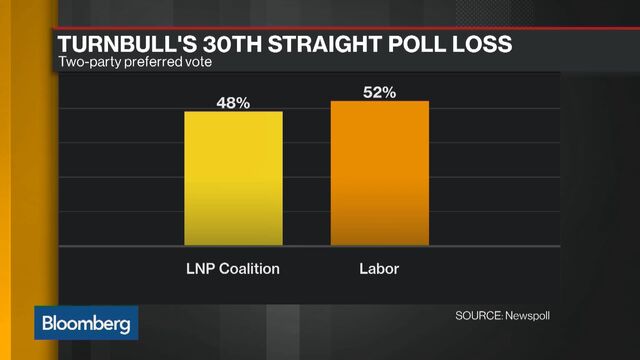 Malcolm Turnbull's government lost a 30th straight opinion poll on Monday -- an uncomfortable milestone for Australia's prime minister, who used the same measure as a justification for deposing his predecessor.

The Liberal-National coalition has now trailed the main opposition Labor party in the closely watched Newspoll since shortly after scraping back into office in the July 2016 election.
Key Cabinet ministers rallied to the prime minister's defense at the weekend and a separate poll showed the majority of Australians want him to remain in the top job. While there's no obvious challenger waiting in the wings, the clock is ticking for Turnbull to turn around the government's fortunes before elections due next year.
"The leadership is safe with Malcolm Turnbull," Energy Minister Josh Frydenberg told the Australian Broadcasting Corp. on Sunday.
Turnbull has sought to take the initiative, highlighting his success in delivering economic leadership and a return to Cabinet-style government that were also central to his rationale for wresting the prime ministership from Tony Abbott.
"I do have the confidence of my colleagues and no-one is suggesting I don't," Turnbull told reporters in Sydney on Monday. While he said he now regrets making the remarks about Newspoll at the time of removing Abbott, he had promised "to provide economic leadership and traditional Cabinet government and I have done both."
Unemployment has fallen to 5.6 percent from 6.2 percent when Turnbull took office in September 2015, and the economy generated 400,000 jobs last year, a record three-quarters of them full-time positions.
The budget is on track for its first surplus in more than a decade, keeping intact the much-vaunted AAA credit rating; business conditions have hit record highs, spurring a long-awaited lift in investment beyond mining; and bubble-like conditions in the Sydney and Melbourne property markets are slowly deflating in what looks like a soft landing for housing.
It's a strong scorecard. But there have been two telling chinks in Turnbull's economic armor.
First, wages are stagnant and in some cases have fallen when adjusted for inflation. That means that for the first time in a long time, Australians feel like they're going backwards. Compounding that, in order to buy homes in rising markets they've have had to take out hefty mortgages, pushing household debt to a record. Unlike in the past when rising wages and asset prices allowed people to inflate away their debts, that's no longer an option.
Second, the government has been beset by scandal and own-goals -- including former Deputy Prime Minister Barnaby Joyce's extramarital affair -- which drowned out its narrative every time it tried to turn the focus to the economy.
"The best way to be a good government is to have clear policies, to have a united team," Abbott said in an interview with Sky News on Monday. Politics, he said, was not a personality contest but a policy contest.
— With assistance by Jason Scott
Before it's here, it's on the Bloomberg Terminal.
LEARN MORE