technology
Facebook Has Become a 'Pandora's Box' of Risks for Nordea Funds
By and
Nordea quarantied Facebook from sustainable funds in March

Funds' head says Facebook lacks systems to manage its risks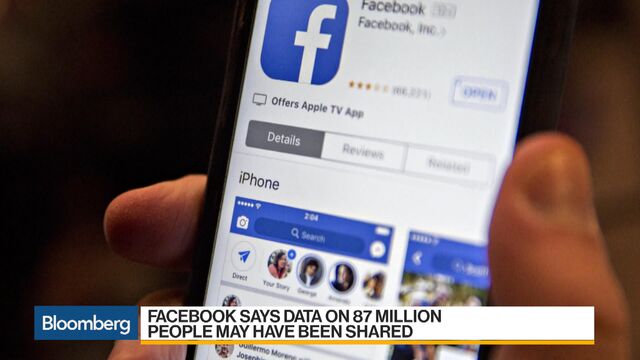 The head of sustainable investing at Nordea Bank AB says it remains unclear how bad things will get for Facebook Inc. as he upholds a quarantine on buying shares in the world's biggest social-media company.
Sasja Beslik, who runs the Nordea unit from Stockholm, blacklisted Facebook from his funds last month. He said the decision followed a year of analysis during which several questions emerged around how Facebook manages its relationship with third parties.
Facebook Is Blacklisted at Nordea's Sustainable Investment Unit
"We realized when the Cambridge Analytica case came up that this is a case that's more or less like a Pandora's box," Beslik said in an interview on Thursday with Bloomberg Television's Alix Steel and David Westin.
"When you open it, you actually don't know what's going to happen in the next two to three years given that the company is lacking a lot of the underlying systems to manage this," he said.
EU, Facebook Planning High-Level Contacts Over Data Scandal
Facebook has been the focus of widespread indignation after revelations last month that political consulting firm Cambridge Analytica improperly accessed data on millions of users. The ensuing shock has wiped tens of billions of dollars off Facebook's market value.

Beslik said the quarantine means portfolio managers in his funds can't buy more Facebook shares, but doesn't force them to instantly dump the stock. Asked what it would take for the Nordea funds to start buying Facebook again, Beslik said "more systemic transparency" and "far more, better information from the company in the long term on how they're going to deal with the regulation issues both in the U.S., but also in the European Union."
"The biggest challenge Facebook is actually having in front of them is the issue of trust," Beslik said. "And that is something that's either going to cost them a lot of money or it's going to be forced upon them on the regulation side."
What We Don't Consider When Using Facebook: Fully Charged
Before it's here, it's on the Bloomberg Terminal.
LEARN MORE