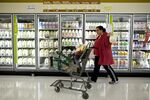 Ahold's new CEO needs to ditch its stichting. 
Transatlantic grocer Royal Ahold Delhaize NV on Thursday named Frans Muller as the successor to current Chief Executive Officer Dick Boer.
Muller is the former CEO of Delhaize, who led the group into the merger with Ahold in 2016. So he's no stranger to M&A, which could be an advantage right now.
Ahold generated 61 percent of its revenue from the U.S. last year, according to Bloomberg data, and that market is under pressure from the twin threats of Amazon.com Inc. and the arrival of German discounter Lidl.
The company is in a strong position to take part in any American dealmaking, given Muller's experience as well as the company's successful combination with Delhaize. It has delivered promised cost savings, some of which are being invested in its stores and online, while ample free cashflow is funding a 2 billion-euro ($2.5 billion) share buyback.
A merger with Kroger Co. is one possibility. Analysts at Bernstein estimate that this could create America's second-biggest grocer, with annual sales of $180 billion, and generate $1.2 billion of synergies.
Alternatively, offloading the U.S. arm in a consolidating market is another possibility.
Europe might not be free from an M&A frenzy either, given Tesco Plc's acquisition of Booker and Amazon's clear ambitions in the grocery market.
In this environment a "stichting" legal structure, that can block takeover bids without giving shareholders a chance to vote, could be harmful. It could prevent much-needed consolidation and see Ahold left behind in a wave of merger and acquisition activity.
The stichting is an agenda item for the company's annual meeting on Wednesday -- the current arrangement expires at the end of the year. But investors will not have the chance to vote on it. Instead, renewal will be extended at the company's discretion. CIAM, an activist that has taken a stake in Ahold, along with Dutch investor group VEB, have demanded that shareholders be given a say.
It is still possible for the company to abandon the arrangement. A face-saving mechanism would be to listen to shareholders' concerns and simply choose not to renew before the expiry date. 
Further impetus may come from Unilever Plc's decision to end its poison pill by cancelling super-voting preference shares. That shifts the company to a one-share, one-vote investor democracy.  
It's time for Ahold to join that trend. 
Before it's here, it's on the Bloomberg Terminal.
LEARN MORE