markets
Wall Street Analysts See Room for Less Trade-War Worry
By
S&P 500 erases losses after China strikes back, Trump tweets

Commentators say there's still time for sides to walk back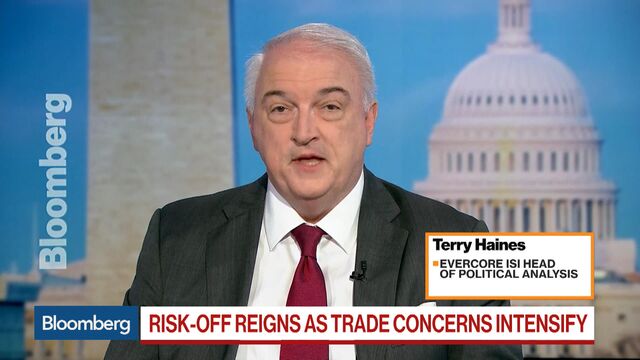 Many Wall Street analysts and strategists agree with President Donald Trump -- that the U.S. isn't in a trade war with China -- and suggest investors shouldn't react like the two countries are going to battle.
They're citing the time left to make a deal, worried Congressional Republicans and the lack of hits to smart phones as among reasons to hope the situation may be contained.
Here's what market analysts are saying:
Goldman Sachs, MK Tang
"China's policy makers still appear keen to minimize any trade conflicts, for example by adjusting policies on market access, import tariffs on other items, or potentially even its posture toward North Korea or other geopolitical issues." Goldman finds it possible "China will withhold the announced tariff measures until the U.S.'s own tariff hikes take effect (unlikely before June). Chinese authorities will also likely watch closely and respond as needed to the U.S. Treasury's forthcoming announcement on investment restrictions on Chinese investment (due around late May)."
Cantor Fitzgerald
"The Cantor strategy team believes the market is overreacting to what should have been expected as a likely negotiating counter-punch. We don't see these tariffs as a surprise or changing the tactical narrative in a real way, as they appear to be proportional and targeted response."
Compass Point, Isaac Boltansky
"There is still the time and basis necessary for an agreement" as the U.S. will undergo a 60-day comment period for its Section 301 actions, and China has stated its actions will be on hold accordingly.
Compass Point senses "a simmering concern" among Congressional Republicans who hope to run on tax cuts, a growing economy, and a surging stock market. "These trade actions weaken the third leg of that electoral strategy, which is a concern for a Republican Party already facing a daunting midterm cycle." Boltansky adds that there may be a positive Nafta announcement next week.
Beacon Policy Advisors
"Trade war remains unlikely," as Trump's trade agenda against China is "clearly telegraphed" with actions under Section 201 (solar panels), Section 232 (steel and aluminum), and Section 301 (latest tariffs). If Trump were to make further moves, he'd need a new process, which would take several months, or he'd have to expand the list of products unveiled April 3. Beacon sees the latest list as more likely to be reduced than expanded, as U.S. companies lobby to have items removed. The firm also flags "notable exceptions" to what's included, with Apple and other tech companies likely "breathing a sigh of relief that the smartphone is not listed."
Height Capital Markets, Clayton Allen
China's response may have been "more rapid and substantive than Trump expected, leaving the president in a less favorable negotiating position." Sees China as aiming at "restricting Trump's ability to leverage his own proposed tariff list, which primarily targeted obscure items in an effort to limit negative impacts on U.S. consumers, to win concessions in what we believe is a larger U.S.-China negotiation."
Height also expects Trump to face stiff criticism from U.S. industries during 60-day comment period. "While we continue to view moderation of both sides' proposals as possible in the coming months, we are reducing our expectations for the scope of U.S. benefits."
Mitchell Market Report, Marty Mitchell
"The most emphatic reaction to the dueling U.S./China trade barbs has been concentrated in the U.S. equity market."
"It seems that calmer heads are prevailing in the bond market with participants there realizing that the end game is likely to be much less onerous than what are in the initial proposals. The bond market seems also to be taking the view that the economic impact of any future changes in tariffs from either side is going to be fairly minimal."

BMO, Ian Lyngen, Aaron Kohli
"While we continue to hear estimates of minimal impact on the real economy linked to each incremental episode of protectionist measures, we struggle to imagine that the fallout for growth and inflation will be nil." BMO cites "the flow-through to sentiment (business, consumer, or otherwise)" that will undermine risk assets. The equity market correction likely "reflects more than simply a healthy retracement, and rather incorporates some of the mounting headwinds for global growth."
FTN, Jim Vogel
"For three decades trade swung to 'open.' No one quite knows if it's moving toward 'closed' yet but investors have little clue how to handle whatever this transition might be today or become tomorrow."
The idea China would retaliate a day after new limitations from the White House is "hardly surprising...but it seems equity investors yesterday never considered the question was necessary."
TD Securities, Mazen Issa
"While both parties seem intent on avoiding a full blown trade war, it is not hard to envision how each could stumble into one."
"The reaction in FX has been relatively benign. But, we think the markets are still being a bit too complacent on the issue. This puts the high-beta FX in focus and AUD is particularly vulnerable in this environment."
— With assistance by Liz McCormick, and Joanna Ossinger
(
Updates to include comments from Goldman Sachs.
)
Before it's here, it's on the Bloomberg Terminal.
LEARN MORE