business
Dave & Buster's Investors May Win by Playing the Waiting Game
By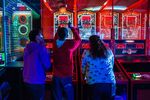 Playtime may be over for Dave & Buster's Entertainment Inc. -- today at least. Between the time it takes for trends to recover and a future product launch, the winning strategy may just be to wait.
At least that's how BMO analyst Andrew Strelzik sees it. "2018 may be a year of laying groundwork for the future," he said after the dining and gaming venue operator reported its fourth-quarter results Tuesday. Eyes were on the company's comparable store sales, which fell 5.9 percent during the quarter and are projected to drop further in fiscal 2018.
The company also saw its bottom-line growth dip into the red for the first time in at least nine quarters, sending the stock tumbling as much as seven percent to its lowest since September 2016.

Some analysts pointed to the company's planned launch of a virtual reality platform as a potential cause for optimism. Raymond James analyst Brian Vaccaro sees favorable margin and long-term growth prospects becoming the focus for investors if comps stabilize after the launch.
But not all were convinced that trends will improve. Hedgeye Risk Management analysts Howard Penney and Shayne Laidlaw called Dave & Buster's a "broken" stock and have it on their restaurants best ideas list as a short.
— With assistance by David Russell
Before it's here, it's on the Bloomberg Terminal.
LEARN MORE