politics
Corbyn Remains Untouchable as Anti-Semitism Fight Engulfs Labour
By
Members back Labour boss amid criticism from Jewish leaders

Corbyn backer Jon Lansman says program of training is needed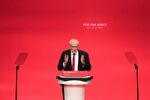 A week after Jews gathered outside Parliament to protest against him while inside one of his own lawmakers accused him of lying, Jeremy Corbyn looks more secure than ever at the helm of Labour.
The leader of the U.K.'s main opposition party enjoys overwhelming support among grassroots members who seem unfazed by criticism he's soft on Vladimir Putin or that he's done little to eradicate anti-Semitism within his ranks. In a new survey, 80 percent of them said he was doing a good job.
"Since the 2017 election when Labour did better than anyone predicted, he's got this aura about him; it's kind of magic cloak that protects him from criticism -- particularly when it's seen as coming from the usual sources," said Steven Fielding, professor of politics at Nottingham University.
If the recent blitz was a test of the steadfastness of his fans, it's clear they remain devoted: As Fielding puts it: "At least half of Labour members joined because of Jeremy Corbyn and their faith in him is the thing that truly defines them, they think he's different and will make a difference."
After last year's surprise result, which erased Prime Minister Theresa May's parliamentary majority, Corbyn's positions on Europe, the economy and foreign policy have come under greater scrutiny.
Jewish Caricatures
The attacks have also brought out a siege mentality among some of his most ardent supporters. Both were on display after Corbyn was found in past social media posts to have defended a mural that showed Jewish caricatures playing Monopoly on the backs of enslaved workers.
For much of the media and Corbyn's political opponents, his Facebook post from five years ago was further proof of the anti-Semitism in Labour. Meanwhile Corbyn's fans dismissed the attacks as "smears" intended to damage his chances of gaining power.
His office did little to calm tensions by claiming at first that Corbyn had been defending free speech. His own apologies only grew fuller as it became apparent how angry Britain's Jewish community had become. Hundreds of Jews joined lawmakers on March 26 to denounce Corbyn's inaction.
'Shock'
"It came as something of a shock to him to be described as being some kind of a racist, of harboring people with anti-Semitic views in the party he now leads, and I think awareness has grown -- as it has for all of us," Jon Lansman, head of the Momentum group set up to support Corbyn, told the BBC.
Sometimes the language used by party members in criticizing Israel is anti-Semitic, Lansman admitted, and the party has a "widespread problem of unconscious bias." Corbyn is a long-time advocate for Palestinian rights who referred to militants from Hamas and Hezbollah as "friends" during a meeting in Parliament in 2009.
Corbyn had hoped that a report by Shami Chakrabarti in 2016 would end allegations of a culture of anti-Jewish racism in Labour. But the report and its recommendations for action were dismissed as inadequate by his critics, not least because its author was rewarded with a seat in the House of Lords.
'Right Motives'
"Corbyn deals with lots of pro-Palestinian causes, so it's not surprising he's come into the circle of people with unpleasant views, but in the eyes of many of his supporters he did it with the right motives," said Anthony Wells of YouGov, which carried out the latest survey.
YouGov's survey of 1,156 Labour members March 27-29 found that 65 percent viewed Israel as a "force for bad in the world," with 68 percent holding the same view of the U.S. and 79 percent for Russia.
Corbyn seems keenly aware that his support base remains solid, courting more controversy rather than playing it safe. Having pledged to spend time with the U.K.'s Jewish community, he chose to attend a Passover celebration with Jewdas, a fringe left-wing Jewish group which has described Israel on its Twitter account as "a steaming pile of sewage."
"I learned a lot. Isn't that a good thing?" Corbyn said, after telling reporters that his companions were young Jews from his neighborhood.
Labour lawmaker John Woodcock, who last week accused Corbyn of lying over his record of opposition to Putin, said Corbyn was "deliberately baiting the mainstream Jewish community" and his attendance was "irresponsible and dangerous."
The reality, though, is that while many Labour lawmakers do not want him to lead them into the next election due in 2022, rank-and-file party members hold the cards.
"The big thing going for him is there's no alternative," said Fielding. "He can do what he wants."
Before it's here, it's on the Bloomberg Terminal.
LEARN MORE