politics
Austrian Anti-Smoking Campaign Challenges Populists on Home Turf
By
Petition turns tables on Freedom Party's pro-referendum stance

Don't turn Austria into 'Europe's ashtray,' activists say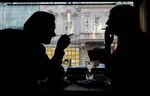 Anti-tobacco activists turned the tables on a populist party in Austria's ruling coalition by submitting more than half a million signatures against a reinstated law that allows smoking in bars and restaurants.
The referendum bid puts the Freedom Party in a bind after it joined Chancellor Sebastian Kurz's government last year pledging to defend smokers' rights and expand the use of popular votes. The activists want to overturn a parliamentary vote in March that restored designated smoking areas.
Apart from health considerations, no one in the hospitality industry "can understand why foreign visitors have to accept spending their vacation in the ashtray of Europe," Paul Sevelda, head of Cancer Aid Austria, said in a statement by the Don't Smoke campaign on Wednesday.
Led by Vice Chancellor Heinz-Christian Strache, a passionate smoker, the Freedom Party presented its stance in last year's Austrian election as a triumph for citizens' free choice against a health-obsessed nanny state. He also pledged to push for any legislation to be put to a referendum if 900,000 voters, or 15 percent of the electorate, petition parliament against it.
Previous Ban
Initiators of the anti-smoking campaign handed over more than 580,000 initial signatures to Interior Minister Herbert Kickl of the Freedom Party on Thursday and said they expect to reach 900,000 by the fall.
Polls suggest Austrians are split over restoring the previous government's ban on smoking in all public spaces, though an IMAS poll for the Kronen-Zeitung newspaper in March showed that 70 percent want the matter decided by referendum.
While Austria allows referendums, they're mandatory only for a limited range of constitutional amendments and for impeaching the country's president. Kurz's government plans to change the law and make a referendum automatic if enough voters support it.
Before it's here, it's on the Bloomberg Terminal.
LEARN MORE