politics
Trump's Border Dustup Looms Over Nafta Push: Balance of Power
By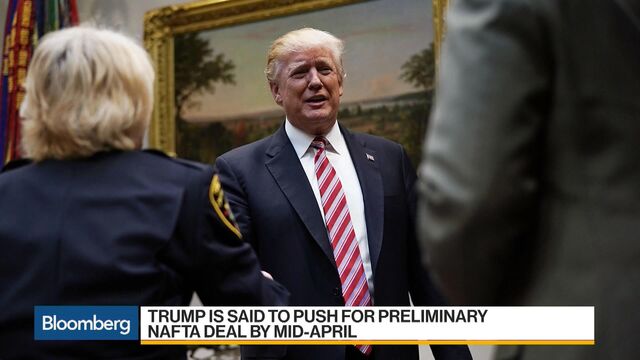 Want to receive this post in your inbox every morning? Sign up for the Balance of Power newsletter, and follow Bloomberg Politics on Twitter and Facebook for more.
After spending the past several weeks stoking fears of a global trade war, Donald Trump's administration is racing to close a Nafta deal with Canada and Mexico. But, inevitably, there's a catch: the president's renewed focus on illegal immigration.
The White House will host cabinet ministers in Washington to try to achieve a breakthrough on a preliminary trade agreement to announce at a summit in Peru next week, Eric Martin reports.
America's eagerness to strike a deal on its biggest trade pact comes as U.S. stocks tumbled, falling in seven of their past 10 trading sessions on concern over Trump's plan to slap duties on Chinese goods. That, after new tariffs on steel and aluminum imports, could spark escalating rounds of protectionism.
A potential fly in the ointment is the president's public criticism of Mexico over immigration.
Trump called on Mexican officials yesterday to stop a caravan of Central American refugees from entering their country, a day after he threatened to pull out of Nafta altogether over the flow of people and drugs into the U.S.

Global Headlines
Presidential power | Trump has entered what his predecessor called the "pen-and-phone" phase of his presidency — after little more than a year. He's increasingly leaning on his own executive authority to get things done, Toluse Olorunnipa writes. The approach carries policy risks for stakeholders. For instance, the administration announced plans yesterday to revise Obama-era auto emissions standards — but in a way that may backfire on car manufacturers.
The Artificial Intelligence race | The scandal that's engulfed Facebook Inc. is being carefully watched in Beijing, where privacy regulators are keen to maximize access to data to ensure China dominates Artificial Intelligence, the next frontier in machine learning, as it competes with the other two big technology players: Europe and the U.S.

Macron's test | Trains and planes were canceled across France today as unions protested against Emmanuel Macron's plans to roll back privileges for some state workers and increase competition. Union opposition to the French president's first wave of reforms last year generated little momentum, but with 36 days of stoppages planned through June, this could be Macron's biggest challenge yet.
Putin gets Trumped | Only days after Trump invited Russian President Vladimir Putin to the White House during a call to congratulate him on his election win, Washington announced the biggest expulsion of Russian diplomats in decades over the U.K. spy-poisoning case. Following his firsthand experience of Trump's unpredictable behavior, Putin gets to return to a more comfortable stage this week, meeting with the leaders of Iran and Turkey to decide the fate of Syria.
Japan's glass ceiling | A Japanese politician who says she was inspired by Margaret Thatcher is looking to emulate the Iron Lady in becoming her country's first female prime minister. While Seiko Noda's own odds are slim, she's trying to inspire others to enter the male-dominated political scene by setting up a first-of-its-kind school for women politicians. This won't be an easy task: Japan ranks 158th out of 193 countries in female political representation.
And finally... Winnie Madikizela-Mandela was idolized as the Mother of the Nation, a symbol of defiance while her husband Nelson Mandela served a 27-year jail term. Detained and banned by South Africa's security apparatus, she also carved out a different legacy, surrounding herself with bodyguards responsible for crimes including murder in the 1980s. While Mandela later divorced her for infidelity and she slammed the post-apartheid settlement for leaving blacks on the "outside," she remained popular in the African National Congress — "a voice for the voiceless," President Cyril Ramaphosa called her after she died yesterday at the age of 81.

Before it's here, it's on the Bloomberg Terminal.
LEARN MORE