markets
Spotify Poised to List in Turbulent Time for Shares: Tech Update
By
Trade tensions, Trump's tweets have pushed stocks lower

Japan follows U.S. in downturn for technology companies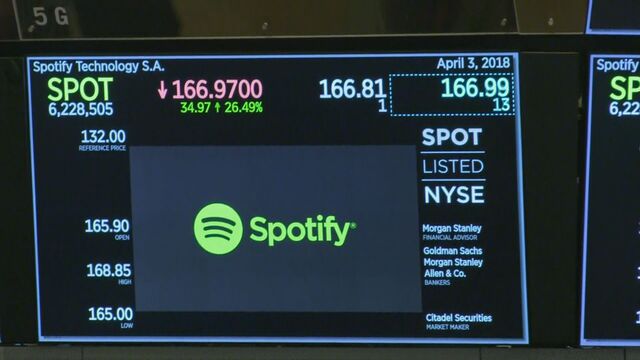 Music-streaming service Spotify Technology SA has avoided the traditional path to a stock listing, eschewing costly investment bankers and saying it wants to price its shares at a level that will ensure stability rather than a big jump on the first day of trading. The timing of its offering today will likely result in the latter -- though does little to ensure the former.
Spotify is set to launch its alternative IPO on the New York Stock Exchange on a day that technology stocks around the world have been rocked by uncertainty over U.S.-China trade and by aggressive tweets from President Donald Trump.
Trump has been unrelenting in his criticism of Amazon.com Inc. in recent days, saying the online retailing juggernaut takes advantage of the U.S. Postal Service and doesn't pay sufficient taxes. That news, plus reports that Apple will shift away from Intel Corp. chips and that Tesla Inc. is struggling to ramp up production of its latest model, combined to hammer tech stocks, which fell in Japan Tuesday following a rout in the U.S. on Monday.
Here are the latest developments in the markets, updated throughout the day.
Tech Names Lead Decline in Japanese Equities After U.S. Rout
Japanese shares tumbled following a technology-led slump in U.S. stocks and amid continued concern over global trade tension. Nintendo Co. and SoftBank Group Corp. were among the biggest drags on the Topix index after Amazon helped pull U.S. shares lower.
"Trade friction may reduce volumes and higher import prices may accelerate U.S. inflation, leading to a sharp increase in interest rates, which could stall the economy," said Toshihiko Matsuno, who works in investment research at SMBC Nikko Securities Inc.
Amazon Stock Falls After Another Round of Trump Rants
In his latest Twitter rant Monday, Trump said "Only fools, or worse, are saying that our money losing Post Office makes money with Amazon. THEY LOSE A FORTUNE, and this will be changed. Also, our fully tax paying retailers are closing stores all over the country....not a level playing field." Amazon's stock closed down 5.2 percent Monday.
Chipmakers Fall Most in 7 Weeks as Apple Ditches Intel Chips
Semiconductor shares in the S&P 500 Index fell 4.4 percent at the close of trading Monday, their worst performance since Feb. 8, after a report from Bloomberg that Apple Inc. plans to start using its own chips in Mac computers beginning as early as 2020, replacing processors from Intel, according to people familiar with the plans.
Musk Sleeps at the Factory While World Waits For Model 3 Numbers
In a testy Twitter exchange, Tesla CEO Elon Musk said he is "back to sleeping at the factory" while trying to fix production delays with his Model 3 electric car. It's a move reminiscent of Tesla's last vehicle launch—the Model X—when Musk famously kept a sleeping bag near the production line so he could immediately address any hiccups.
"Car biz is hell," Musk tweeted. Tesla stock is down 19 percent year to date.
Before it's here, it's on the Bloomberg Terminal.
LEARN MORE