politics
Another Corporate Headache Lands on Theresa May's Lap
By and
U.K. defense secretary mulls involving competition watchdog

Takeover could be challenged on national security grounds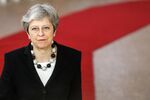 Yet another corporate headache has landed on U.K. Prime Minister Theresa May's lap in the shape of Melrose Industries Plc's hostile 8.1 billion pound ($11.4 billion) takeover of government contractor GKN Plc.
For a Conservative leader, she is viewed as anti-business, and in spite of her rhetoric about guarding the national interest, she hasn't acted on her words.
In a blow to May's efforts to show that the country is open to business after Brexit, Unilever Plc last month picked Rotterdam over London for its corporate headquarters. The U.K.'s weaker takeover rules make its companies easier targets than Dutch ones.
This recent history bodes ill for the purchase of the 250-year-old engineering company by Birmingham, England-based Melrose.
Defense Secretary Gavin Williamson, a May confidante whom she promoted just five months ago, is considering whether the ownership change poses enough of a security threat to call in the Competition and Markets Authority, even though the buyer is a British firm.
"Melrose has put forward a number of legally binding commitments on matters including pensions, research and development, and ownership periods," Chairman Christopher Miller said in a statement Tuesday, reiterating measures announced last week. They include a pledge not to sell GKN's core aerospace assets, including its military units, over a five-year period. The purchase is aimed at creating "a manufacturing and engineering powerhouse."
GKN's exposure to military sales is limited. It isn't a major direct supplier to the U.K. armed forces with most of its defense operation concerning the supply of components used in aircraft procured by the Ministry of Defence, as well as parts for government suppliers including BAE Systems Plc.
Track Record
It's unclear whether the takeover target is enough of a household name to force the government into action, especially in light of May's track record of not intervening with market forces. Most recently, her administration allowed Carillion Plc to go bust, putting public-sector projects at risk and raising questions about the government's reliance on private suppliers.
For more on criticism of May following Carillion's collapse, read this.
When she was campaigning to become prime minister, May singled out Kraft Heinz Co.'s 2010 takeover of the iconic British chocolate maker Cadbury Plc as a deal that failed to protect British jobs. Since then, Heinz has come sniffing around Unilever, and while the U.S. suitor ultimately dropped the bid, the Anglo-Dutch maker of Marmite still decided to decamp following Brexit.
The latest onslaught by a turnaround specialist -- with an inclination toward cutting jobs and selling businesses -- has put the spotlight again on the U.K.'s weak takeover-defense rules.
Melrose shares fell 1.1 percent to 228.4 pence as of 1:48 p.m. in London, while GKN was trading down 2.6 percent at 451 pence.
Defense Matters
May herself has largely stayed mum on the GKN deal. In February, she told parliament that the business department would look closely at the transaction, and pledged to "always act in the U.K. national interest."

Business Secretary Greg Clark has the power to refer the deal to the authority on national security grounds, but his department doesn't have the expertise to make that judgment, and is deferring to the Ministry of Defence and other security agencies for guidance, according to an official familiar with the matter.
The possibility of Melrose's takeover being blocked has become more prominent in the days after the turnaround specialist won an acrimonious battle for control. While the long history of GKN, which emerged from World War II as Britain's top steel producer, has sparked nostalgia among workers, its role in military aircraft supplies has attracted official scrutiny.
The government "has a statutory responsibility to consider whether the merger in its proposed final form gives rise to public interest concerns in areas such as financial stability and national security," Max Blain, May's spokesman, told reporters in London on Tuesday.
Even so, the chances of a review being a substantial risk for investors is limited, according to Jefferies International analyst Sandy Morris. While shareholders might be uneasy, "I suspect there are natural checks and balances to ensure no one is disadvantaged -- up to and including the U.K.," he said. "I can see neither a material issue for the CMA to address full-stop, nor any concern that could not be more appropriately addressed."
Melrose's Promises
Clark indicated to Melrose in a March 26 letter that he would consult with the MoD over whether to make a referral to the CMA. In the letter, he listed binding commitments he wanted the company to make, including keeping Redditch, England-based GKN as a U.K. business, paying taxes, maintaining its British workforce, investing in research and development as well as making satisfactory pensions arrangements.
The following day, Melrose Chief Executive Officer Simon Peckham largely acceded to those demands and said that as his company is also British, there was no need for the CMA to scrutinize the deal because of national security concerns. That's when the company promised keep its headquarters in the U.K. and not to sell the aerospace division for five years.
"We are wholly committed to securing the U.K.'s national security," Peckham wrote.
— With assistance by Tara Patel, and Benjamin D Katz
(
Updates with Melrose chairman's comment in sixth paragraph, government's in 15th, analyst in 16th.
)
Before it's here, it's on the Bloomberg Terminal.
LEARN MORE