business
Imperial CEO Apologizes for Remarks to Employee After Ruling
By and
Mark Lamberti says he didn't intend to insult Adila Chowan

Court didn't find evidence of racial, gender discrimination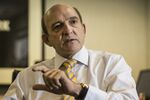 Imperial Holdings Ltd. Chief Executive Officer Mark Lamberti apologized for comments made to former employee Adila Chowan after a court found him guilty of impairing her dignity when he referred to her as "female employment-equity" in front of fellow managers.
While the High Court in Pretoria ruled that there was no evidence of racial or gender discrimination by Lamberti or the South African industrial company, the CEO said he "apologizes unreservedly" for the remarks to Chowan, an Asian woman. He hadn't intended to "insult or demean her in any way," Lamberti said in a statement Tuesday.
The ruling marks the second race-related South African court decision in as many weeks after Vicki Momberg, a former real estate agent, was sentenced to two years in prison for a racist tirade. She is appealing the ruling. Racial tension remains a issue in South Africa more than two decades after the end of a system of institutionalized racial discrimination known as apartheid that kept economic and political power in the hands of the white minority.
Racial Discrimination
Chowan brought the case against Lamberti last year after she left Imperial in 2015. The CEO's remarks came in a meeting about her potential career path, in which he also said she was "technically competent" and would need as many as four more years to develop her leadership skills. She was "extremely upset" by the comments, and considered the reference to employment equity to be racial and gender discrimination. The court ordered Imperial and Lamberti to pay Chowan's costs, with damages yet to be set.
A veteran of the South African business community, Lamberti was this year appointed to the board of state utility Eskom Holdings SOC Ltd. as part of new South African President Cyril Ramaphosa's pledge to reform state-owned companies after years of corruption allegations under his predecessor, Jacob Zuma. His position is now in doubt, as Minister of Public Enterprises Pravin Gordhan is taking legal advice to decide the next course of action, according to Makgola Makololo, acting director-general of the department.
At Imperial, Lamberti is preparing for a potential split of the company into separate automotive and logistics businesses later this year. He previously founded and led retailer Massmart Holdings Ltd. before the sale of a majority stake to Wal-Mart Inc. in 2011.
Imperial shares fell 3.9 percent to 221.85 rand as of 12:08 p.m. in Johannesburg, the lowest since Dec. 13.
(
Updates with details of ruling in fourth paragraph.
)
Before it's here, it's on the Bloomberg Terminal.
LEARN MORE