politics
Governor of Russia's Kemerovo Region Resigns After Deadly Mall Fire
By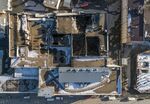 The veteran local governor of the Siberian region of Kemerovo has resigned over a shopping-mall blaze last week that claimed more than 60 lives.
Aman Tuleyev, who's been governor of the Russian mining region since 1997, said the decision to submit his resignation was the "right, conscious and only true decision" after the March 25 blaze, which killed 64 people, including 41 children. Many of the victims were trapped in a movie theater whose exit doors were locked.

The disaster shocked the nation and revived questions about corruption and poor enforcement of fire-safety rules just a week after President Vladimir Putin won a landslide re-election. Tuleyev enraged the public by denouncing the thousands who took to the streets in protest as "opposition" troublemakers, and apologizing to Putin because the fire took place in his region.
Putin accepted Tuleyev's resignation on Sunday and appointed his deputy Sergei Tsivilyov as acting governor.
Tuleyev was one of the longest-serving governors in post-Soviet Russia. He took the reins of the hardscrabble Kemerovo region at a time when striking miners there had come to symbolize the economic lows of Boris Yeltsin's presidency.
Before it's here, it's on the Bloomberg Terminal.
LEARN MORE