business
Melrose Hostile GKN Takeover Sparks U.K. Government Interest
By
Deal could be challenged on national security grounds

Melrose may commit to not selling aerospace unit for 5 years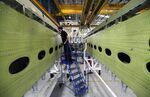 The U.K. ministers for defense and business may take steps over Melrose Industries Plc's hostile takeover of government contractor GKN Plc for any risks the deal may pose to national security, media reports said Saturday.
Defense Secretary Gavin Williamson, who raised concerns about a deal last month, is still not convinced and may intervene, even if engineering giant GKN doesn't rank among the top 50 suppliers to the U.K. military and both companies are British, the Financial Times reported Saturday, citing an unidentified government official.

The government has a legal responsibility to consider whether the 8.1-billion-pound ($11.3 billion) transaction gives rise to public interest concerns, Business Secretary Greg Clark said in an interview with BBC Radio 4, without giving a view before all the evidence has been considered. He has previously raised concerns about the short-term business model of Melrose, a takeover specialist based in Birmingham, England.
The deal prompted warnings from key customer Airbus SE, complaints from labor unions and led the Daily Mail newspaper on Friday to describe the sale "An Abuse of Capitalism" in its front-page headline. The Mail illustrated the story with a photograph of four top Melrose executives, calling them "four vultures" who may make 285 million pounds on the deal.
The prospect of the government action may force Melrose to make fresh pledges on holding on to GKN's aerospace unit, which supplies parts for aircraft such as the F-35 and A400M transport. Melrose could agree to a legally binding condition not to sell the division for at least five years amid concerns that it could end up with a foreign buyer, the Daily Telegraph reported.
Opposition Labour Party leader Jeremy Corbyn in a tweet urged Clark to step in and represent the interest of the public, not "city speculators."
"The takeover of GKN must be stopped," he said in a tweet. "This is about people's jobs, national security and our whole industrial strategy."
Before it's here, it's on the Bloomberg Terminal.
LEARN MORE