politics
Louisiana's Last Three Abortion Clinics Fight 'Death by a Thousand Cuts'
Laurel Brubaker Calkins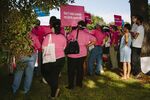 A federal judge cautioned Louisiana lawmakers Friday against attacking the constitutional right to abortion through a "death-by-a-thousand-cuts strategy."
Women's-rights activists are challenging a dozen state statutes that collectively regulate different aspects of operating abortion clinics and performing the procedure. Louisiana already has lost eight clinics following the Republican-controlled legislature's passage of earlier regulations. Only three are left.
"A state is not permitted to attack abortion providers in a death-by-a-thousand-cuts strategy, evading review by legislating in a piecemeal fashion," U.S. District Judge Brian A. Jackson of Baton Rouge, Louisiana, wrote in refusing Louisiana's request to dismiss the challenge. The clinics will be allowed to continue their fight to prove the cumulative burden of the statutes outweigh their purported health benefits.
Louisiana claims the regulations are necessary to ensure patient safety and show proper respect for unborn lives. Included in the regulations are rules allowing state inspectors to conduct warrantless searches of clinics without notice, terminate clinics' operating licenses for minor infractions, and compile detailed medical records on all women who receive abortions.
The case is June Medical Services LLC v. Gee, 3:17-404, U.S. District Court, Middle District of Louisiana (Baton Rouge).
Before it's here, it's on the Bloomberg Terminal.
LEARN MORE