politics
Japan's Aso Pushes Back Against Trump on Bilateral Trade Deals
By and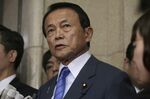 Japan's chief in economic talks with the U.S. doesn't want wrangling over metals tariffs to drag the economic and military allies into bilateral trade discussions.
"After the war, the U.S. set up a multilateral trading system -- not a bilateral one -- and the whole world is moving in that direction," Finance Minister Taro Aso told reporters in Tokyo on Friday. "But recently, and mainly due to the U.S. trade deficit, they're looking to do things bilaterally."
"We don't want talks like that," he said.
Read More: Trump's Tariffs on Steel and Aluminum Imports
Japan's trade surplus with the U.S. has been a source of friction between the countries, with President Donald Trump criticizing Japan's trade and currency policies on the campaign trail and soon after becoming president. More recently Trump declined to exempt Japan from new tariffs on metal imports, even as other allies got a pass.
"We want to avoid the current talks on aluminum and steel becoming bilateral trade discussions," Aso said, adding to remarks Thursday that Japan would continue to refuse bilateral free-trade talks with the U.S.
While Trump has had some success in making others bend to his will with bilateral trade talks, Japan has been a successful advocate for keeping multilateral deals alive. Earlier this month, Japan and 10 other nations signed an Asia-Pacific trade deal -- an agreement that doesn't include the U.S. as Trump pulled the nation out last year.
Why Pacific Trade Deal Is a Big Deal With U.S. or Not: QuickTake
Prime Minister Shinzo Abe is set to visit Trump next month in the U.S., with differences on trade likely to push their way onto an agenda that was supposed to focus on North Korea.
"I'll talk to Prime Minister Abe of Japan and others -- great guy, friend of mine -- and there will be a little smile on their face," Trump said last Thursday at the White House while talking about trade. "And the smile is, 'I can't believe we've been able to take advantage of the United States for so long.' So those days are over."
— With assistance by Yoshiaki Nohara
Before it's here, it's on the Bloomberg Terminal.
LEARN MORE