politics
U.K., Russia Duel Over Dostoevsky as Poison Fight Turns Literary
By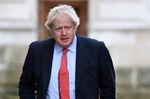 The conflict between the U.K. and Russia over the nerve-agent poisoning of a former spy spread to literature this week, though it's Crime and Punishment, not War and Peace, that's the chosen battlefield.
U.K. Foreign Secretary Boris Johnson fired the first shot by comparing Russia to Rodion Raskolnikov at the start of Dostoevsky's classic work. "We're all confident of the culprit -- and the only question is whether he will confess or be caught," he said in a speech to the Lord Mayor's Easter banquet in London on Wednesday.
Russian Foreign Ministry spokeswoman Maria Zakharova threw the book at Johnson in her weekly briefing in Moscow on Thursday, telling him to read more than the beginning of the novel and citing, in English, Dostoevsky's fictional detective Porfiry Petrovich that "From a hundred rabbits you can't make a horse, a hundred suspicions don't make a proof."
The Russian embassy in the U.K. also weighed in on Twitter, complimenting Johnson on his "good taste in books" before adding that "Raskolnikov did have a motive, and Porfiry Petrovich had evidence."
While the two nuclear powers engage in a strategy of Mutually Assured Dostoevsky, Moscow has yet to respond to the unprecedented international expulsion of more than 150 Russian diplomats in support of the U.K., which blames the Kremlin for the March 4 poisoning of former double agent Sergei Skripal. Russia denies any involvement.
Before it's here, it's on the Bloomberg Terminal.
LEARN MORE