business
Toyota, Suzuki Agree to Sell Each Other's Vehicles in India
By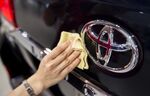 Toyota Motor Corp. and Suzuki Motor Corp. agreed to sell each other's hybrid cars and other vehicles in India, deepening an alliance between the companies.
Toyota will supply the Corolla to Suzuki, which in turn will make the Baleno and Vitara Brezza models available for Toyota, the companies said in a statement Thursday. The timing and number of supplied units, vehicle specifications, and pricing will be determined at a later stage, they said.
The agreement signals strengthening ties between Toyota and Suzuki, which are planning collaboration to keep up with technological advances in areas such as electrification and autonomous driving. The companies also have said they are going to take their time to decide on the merits of a capital alliance.
For Toyota, the pact gives access to Suzuki's expertise in India, which is set to overtake Japan to become the third-largest vehicle market in the world. The companies signed a partnership in February 2017 to explore joint projects and said in November they plan to introduce battery electric cars in India around 2020.
Suzuki is attempting a partnership with a larger carmaker after an acrimonious split with Volkswagen AG. Toyota has budgeted to spend about seven times more on research and development this fiscal year than Suzuki, which has pointed to the soaring cost of making competitive cars as a reason to join forces with a partner.
Before it's here, it's on the Bloomberg Terminal.
LEARN MORE