markets
Spencer's 78,000% Rise to Billionaire Began With a $70,000 Bet
By
NEX, successor to startup that became ICAP, sold to CME

British billionaire known for political involvement, charity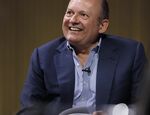 CME Group Inc.'s bid for NEX Group Plc is the culmination of a bet made by the British company's founder when he and two friends invested 50,000 pounds ($70,000) in a startup. Thirty-two years later, Michael Spencer is a U.K. establishment figure spanning the political and philanthropic worlds.
Now 62 and one of the richest self-made men in the City of London, Spencer wagered that banks would need a trusted third party to broker deals between each other. That hunch proved correct over the next 20 years as the former Intercapital grew organically and through takeovers into ICAP Plc, the world's largest inter-dealer broker and a City icon.
The billionaire's ascent was marked by feuds with rivals and a sometimes condescending attitude to employees who didn't get his strategy. He's also known for raising millions of pounds through ICAP's Charity Day. He backed former Prime Minister David Cameron, turning around the Conservative Party's financial fortunes as treasurer from 2006 to their 2010 return to government after losing three elections to Tony Blair. And though a right-winger, he voted Remain in the U.K.'s Brexit referendum.
This profile is the result of interviews with several people who have worked with or are close to Spencer, who asked not to be identified.
In the process of turning 50,000 pounds into the 3.9 billion pounds NEX is being sold for -- a 78,000 percent gain --two major forces have compelled the Oxford University physics graduate to reinvent ICAP: technology and regulation. In the early 2000s, he realized that electronic markets would slowly eat into the bond and derivatives trades that his staffers, known as voice brokers, arranged over the telephone. His bet could have gone sour.
Luddite Lecture
Spencer, who declined through a spokesman to comment for this story, decided to embrace the arrival of technology. From 2006 onwards, he set ICAP a target of growing the operating profit coming from electronic markets and other services at a faster pace than the voice business.
A former ICAP employee recalls a meeting of senior managers from those days. As people took their places, someone mentioned to a colleague that he couldn't see technology making serious inroads into commodities broking. Spencer, who overheard the comment, gave the man an aggressive, five-minute-long dressing down while everyone else had to sit and listen.
The wave of regulation that followed the financial crisis reduced the number of trades between banks. Voice brokers, who were paid for the revenue that they generated, quickly became far less productive. Spencer, who had been a billionaire before the crisis, was worth less than 400 million pounds by 2012.
But by then, ICAP's electronic markets had built dominant positions in Treasury and currencies trading. When trading picked up again, Spencer's electronic markets were ready. His plan had worked.
Libor Links
Voice brokers aren't only synonymous with telephones. They played a central role in the manipulation of Libor. The company was fined $88 million by U.S. and U.K. prosecutors in 2013 for its role in rigging the widely used benchmark.
The U.K.'s Financial Conduct Authority said that ICAP was focused on revenue at the expense of regulatory requirements. It said the misconduct of a handful of brokers "was exacerbated by a poor compliance culture" at the company. Spencer was never directly implicated in the Libor scandal, but it also likely cost him the chance to call himself Lord Michael; Cameron put him on the list for a peerage, only to have civil servants reportedly block it.
The voice brokers had to go. One of the most obvious buyers for ICAP's voice brokers -- Tullett Prebon Plc -- was impossible because Spencer disliked its expletive-spouting boss, Terry Smith. Smith was replaced by John Phizackerley at Tullett in late 2014; talks between the two firms started just months later.
Phiz, as he is known, bought Spencer's voice brokers and the ICAP name at the end of 2016 for 1.3 billion pounds. The two still have lunch on a regular basis. The electronic business that Spencer kept was renamed NEX Group.
Spencer likes people to know that he is good at making money. He is equally adept at spending it, cultivating expensive habits such as partridge shooting. A collection of homes includes a giant ranch in Kenya, a nod to an upbringing that was partially in Africa, where his father worked as a British civil servant. On March 16, NEX's shares surged more than 30 percent after Bloomberg reported that CME had begun takeover talks; that evening, Spencer celebrated with a few bottles of the 2000 vintage of Chateau La Mission Haut-Brion, a white wine that can cost more than 500 euros ($616) a bottle.
Spencer is known for maintaining friendships, and he's loyal toward his most trusted employees. For example, Seth Johnson, who runs the markets division of NEX, is a former voice broker who received business education at the company's expense. Duncan Wales, ICAP's general counsel as the Libor scandal erupted, has been rewarded with the role of chief executive officer at Exotix Capital, a Spencer side project focused on emerging markets.
Spencer once said "I think I've something of the barrow boy in me." His habits and his wealth are far removed from working-class London's street markets, but he's still defined by his ability to buy low and sell high.
Before it's here, it's on the Bloomberg Terminal.
LEARN MORE