markets
Sodexo Tests Investor Patience as Warning Sends Shares Plunging
By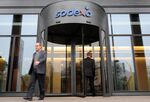 The last time Sodexo shares fell this much in a day, Jacques Chirac was not long into his second term as President of France.
The stock plunged 17 percent in Paris, the most since September 2002, after the catering services provider said weakness in its North American operations will leave 2018 revenue and profit below previous forecasts.
The warning brought a more severe stock reaction than when the company twice reduced its guidance last year, showing that investor patience is wearing thin. Analysts predicted that consensus estimate cuts may exceed 10%.

Here's a summary of what analysts are saying:
Barclays, Vicki Stern (underweight)
Ebit was hit by planned cost savings in North America not yet delivering, weighing on education/healthcare margins and resulting in a slower ramp-up of other contract profitability. This reads much like the reasons cited for Elior's warning in November. Barclays has a clear preference for Compass in the sector.
Bernstein, Richard Clarke (outperform)
"With the consistent guidance downgrades, we worry about management's inability to judge business operations. What new set of plans is to be implemented now that was not available in the second half of 2017 when the problems first arose?"
Readacross to other caterers should be limited. Historically, Sodexo's weakness in U.S. healthcare and education has not been mirrored at Compass, therefore any overreaction would seem harsh.
Jefferies, Kean Marden (hold)
The warning is more of a margin miss than a revenue miss and is likely to drive consensus downgrades of mid-teens percent.
With new CEO Denis Machuel only three months into the job, Sodexo is likely to be preoccupied with devising and implementing a reboot strategy over the next few quarters to recover lost market share. Elsewhere, more settled peers will instead be grinding out efficiencies and honing price strategies to offset higher cost inflation.
"Investors may be skeptical that the margin miss has been driven by failed cost pass through, but the statement talks to slowing revenue growth in North America and delayed ramp in a small number of significant contracts."
Natixis, Johanna Jourdain (buy)
Sodexo has adopted a series of immediate measures, including improving productivity through better planning and allocation of work time on site, tighter spending control, strengthening purchasing procedures and increasing the rate of approved supplier purchasing. It is also looking to reinforce the performance culture by bringing more discipline, rigor and greater accountability.
An in-depth review of the cost structure is underway and will be rolled out at group level.
UBS, Jarrod Castle (buy)

Expect potential for consensus Ebit downgrades of more than 10% and material share price pressure in the near term.
— With assistance by Paul Jarvis, Lisa Pham, James Cone, Phil Serafino, and Blaise Robinson
Before it's here, it's on the Bloomberg Terminal.
LEARN MORE