politics
Schneiderman Says New York Data Law 'Outdated and Toothless'
By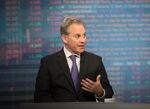 New York Attorney General Eric Schneiderman called the state's data law "outdated and toothless" while noting that data breaches rose to a record in 2017.
Schneiderman said he will introduce legislation to require companies like Facebook Inc. and other social media sites to notify his office and New York consumers when they learn that users' personal information was misused.
The attorney general said 1,583 data breaches were reported in 2017, up 23 percent from the year before. A record 163 million people in the U.S., including 9.2 million New Yorkers were victims of data breaches, primarily caused by hackers, he said.
Before it's here, it's on the Bloomberg Terminal.
LEARN MORE