politics
New Jersey Pension Sells Stake in Firearms Manufacturer Vista Outdoor
By
Investment chief cites 'responsibility' after school shooting

Bill pending in state legislature would ban similar holdings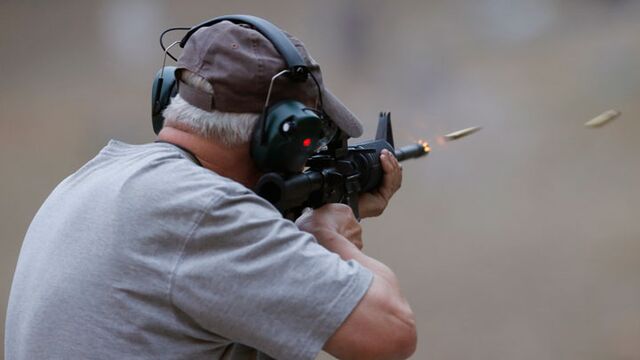 New Jersey's pension fund has sold its stake in Vista Outdoor Inc., a manufacturer of semi-automatic rifles, as lawmakers around the U.S. consider banning such investments.
The state's investment division sold shares worth $1.9 million on March 20, according to Jennifer Sciortino, a spokeswoman for the treasurer's office. Chris McDonough, the division director, said the sale was motivated by the Feb. 14 school shooting in Parkland, Florida, that left 17 people dead. March For Our Lives rallies around the country last weekend drew hundreds of thousands to pressure lawmakers for more stringent gun laws.
"Vista Outdoor was the only holding we identified that manufactures semi-automatic or automatic weapons for civilian use," McDonough said in a statement Thursday. "We had already been reducing the position over time and, consistent with our fiduciary responsibility, we recently sold our remaining position based on the merits of the investment."
Vista Outdoor, based in Farmington, Utah, produces semi-automatic rifles under the Savage MSR product line.
Legislation introduced last month in New Jersey would ban similar investments for the fund, which has $77.85 billion in assets. Teacher pension funds in at least a dozen states were invested in firearms manufacturers last month, Bloomberg found. Educators in Florida have called for their retirement system to divest such holdings, and lawmakers are urging the same in states including Illinois, Massachusetts and Connecticut.
Before it's here, it's on the Bloomberg Terminal.
LEARN MORE