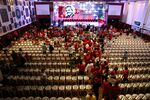 Eight years after leaving office, and nine months after his conviction on corruption charges, former president Luiz Inacio Lula da Silva was handed an arrest warrant on April 5, with the order to hand himself over to the authorities by 5 p.m. on Friday. His chances of returning to power, as he has vowed to do, are close to zero. But the story isn't over. The Supreme Court may sit yet again to review imprisonment rules more broadly that could impact Lula. Also, the Superior Electoral Court will only rule if he can run for office should he register to do so in August. Many are wondering whether his power to influence public opinion would be stronger in jail or on the campaign trail.
1. Will Lula be able to seek the presidency again? 

Probably not. He no longer has a clean criminal record, a prerequisite for election candidates since 2010. There have been exceptions to this law, although not at a federal level. If Lula registers to run for office by the August 15 deadline, the Superior Electoral Court will review his case. It's likely to rule his candidacy ineligible under the so-called "clean slate" law, meaning the Workers' Party would have to find another candidate by Sept. 17.
2. What chance does he have, then?

Lula's lawyers could request an injunction by the Superior Court of Justice, which would look at any abuse of process, or by the Supreme Court, which would examine the possible violation of constitutional principles, potentially allowing Lula to run. If the Superior Electoral Court bans Lula from running after the August 15 deadline date for registering candidates, he could still appeal that decision at the Supreme Court.
3. Is Lula going to jail?
Sergio Moro, the judge who sentenced Lula in the first instance, has ordered the ex-president's arrest. Lula's lawyers have said they will try to reverse the prison order. In it, Moro specifically vetoed the use of handcuffs by the arresting officers and wrote that a special detention area had been set aside for the former president. While some of his political allies have called for resistance to the court order, Lula told a reporter that he intends to follow his lawyers' advice.
4. Could he really run for president from prison?
While the Constitution prohibits inmates from running, prisoners who have not exhausted their appeals process can in theory run for office. To date no Brazilian president has successfully run for office from inside a prison cell.
5. If Lula can't run, who benefits?
Eurasia Group puts the chance of Lula being in this year's presidential race at 20 percent. If he can't run, no single candidate is likely to pick up the bulk of his support, which currently stands at around 36 percent of voter intentions, according to Datafolha. The Workers' Party would probably put forward either Jaques Wagner or Fernando Haddad in Lula's absence, but neither is likely to attract Lula-level support. Jair Bolsonaro, a far-right deputy, takes the lead in opinion polls when Lula is ruled out. Former environment minister Marina Silva and leftwing populist Ciro Gomes also rise in polling scenarios which exclude Lula.
6. How messy could it get?

Aside from the possibility of Lula running for office from a jail cell, there's also a chance that Lula could run for election, win, and then have his candidacy invalidated. Such scenarios are unlikely, however, given that the judges on these courts are conscious of the need to ensure a transparent electoral process and will seek a decision before the election.
The Reference Shelf
Before it's here, it's on the Bloomberg Terminal.
LEARN MORE