markets
Winds of Change in $5 Trillion FX Market
By and
Best execution emerges as dominant theme in foreign exchange

'Avalanche' of interest at Curex could see business double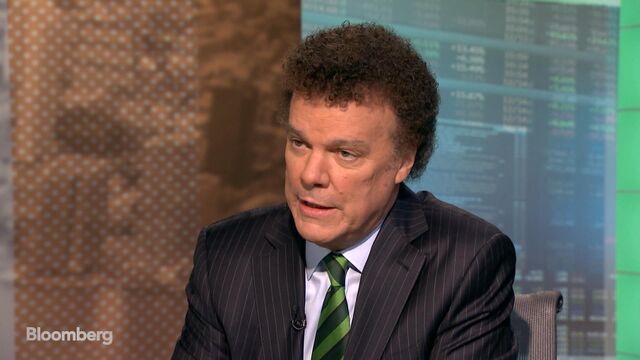 James Singleton is bringing his Ten Commandments to currency markets.
But instead of instructions for life, Singleton -- the founder and CEO of Curex Group, a foreign-exchange platform -- is laying out tenets for best execution in the $5.1 trillion-a-day market. Currency markets have the potential to be upended as clients call for more cost savings and greater transparency, and those demands have become even more urgent after MiFID II regulations came into effect in January.
"The impact on FX has been largely under-appreciated, and in some cases, unanticipated," said Singleton, a 35-year veteran of the FX markets. Now the challenge is turning an opportunity into paying customers. Curex has about 50 clients, Allianz Global Investors and Union Investment Privatfonds GmbH among them; Singleton aims to double that number this year thanks to an "avalanche" of interest in the space.
What's become especially clear in the post-MiFID II world is that the buy side may be obligated to show much more of its work. For businesses such as Curex, the goal is catering to asset managers, pensions and insurance companies, which Singleton views as under-served and sometimes even exploited. 
Best execution is a term of art for traders. In layman terms, it means you have to be able to prove to your compliance department, your regulator and potentially the court of public opinion that you achieved the best possible outcome for your customer. In practice, it means you need a time stamp on everything, right down to the microsecond. 
Bloomberg LP, the parent company of Bloomberg News, operates FXGO, an FX trading platform, and provides solutions which help firms comply with MiFID II's best-execution requirements.
For BestX, a technology and analytics firm in London, the concept of best execution was so important that it inspired the company's name. Its founders, Pete Eggleston, Ollie Jerome and Aman Thind, worked in currencies and electronic trading at Morgan Stanley before starting the company, which creates software to crunch trading data and measure transaction costs. (BestX was so mindful of MiFID II that the company even had a live second-by-second countdown to Jan. 3 on its website.)
"The idea is to fit in that regulatory world," said Eggleston, whose startup has joined with some currency market makers including JPMorgan, Citadel Securities and BNP Paribas to provide transaction cost analysis to their clients. In a fragmented, global currency market where deals are splintered across many platforms, apples-to-apples data are hard to find; the aim is to create "one completely consistent set of analytics and market data and compare performance on a level playing field," he said. 
For his part, Singleton has the air of a man who's spent eight years wandering in the desert, telling anyone who will listen about the importance of transparency. His office in an easy-to-walk-past Midtown Manhattan tower a block off Times Square has few of the trappings normally associated with Wall Street high-fliers. Instead, his desk boasts stacks of regulations -- and more stacks devoted to understanding those regulations.
Unlike in equities, where large trades leave little left unknown, friction and arbitrage are everywhere in foreign exchange. The bigger story here, of course, is the opaque (and lucrative) nature of the FX market. FX traders, who operate in an over-the-counter market, have had a certain propensity toward scandal. In recent years, HSBC has been fined millions for improper behavior in FX; Citigroup, JPMorgan Chase, Barclays and Royal Bank of Scotland endured fallout over the "cartel"; and Wells Fargo, no stranger to controversy, has made more not-so-flattering headlines for overcharging customers.
And to hear Singleton tell it, the enormous FX market is in a state of existential angst. Central banks for several years have sought to create a code of conduct to bring transparency and fairness to a market that seems to foster scandal, he said. Part of the mission of the FX Global Code, announced last May, is to set guardrails around long-held culture, including the controversial so-called practice of last look. Investors such as Vanguard Group Inc. have publicly called for the end of that practice in the currency markets, which allows dealers to back out of losing trades. 
While transparency around last look has improved, "we've got a long way to go," said Roger Rutherford, chief operating officer of ParFX, whose platform falls outside of the scope of the new rules because it focuses on spot trading, an area that MiFID II doesn't address.
Curex's platform, effectively built for the buy side, provides anonymity and transparency; all orders are fully executable. Curex has also integrated with 12 banks -- Singleton plans to add three more soon -- to create what he calls "a pool that's pristine." That goes back to one of the so-called commandments he posted on LinkedIn: "Avoid venues with last look liquidity."
"Curex has built tools supporting us to pursue the best execution process in our FX trading activity," said Christoph Hock, head of multi-asset trading at Union Investment Privatfonds GmbH, which manages 310 billion euros ($383 billion). "We utilize many trading alternatives to deliver best-in-class results to our clients, and in this context we use Curex's platform because we like its no-last-look liquidity, complete anonymity and pre- and post-trade data analytics. Their buy-side only commitment helps in the further development of FX markets."
While customers may not see dramatic changes in outcome or cost-savings on every transaction when comparing the Curex experience with the competition, "on five percent of the trades there's a very meaningful difference," Singleton said. In one case study, he says his team was able to find $60 million in annualized cost savings for a single client by using Curex. 
"The whole industry has been living in the dark ages," Singleton said, "but the lights are going to be brighter and brighter and brighter."
— With assistance by Lananh Nguyen
Before it's here, it's on the Bloomberg Terminal.
LEARN MORE