markets
ECB's Jazbec Quits as Slovenian Governor for EU Bank Agency
By
Jazbec was among architects of Slovenia's 2013 banking rescue

He's leaving to join the Single Resolution Board in Brussels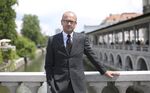 Bostjan Jazbec, a member of the European Central Bank's Governing Council, will step down as the head of Slovenia's monetary authority April 30, opening the way for a new government to choose his replacement after elections this summer.
Jazbec will become a member of the Single Resolution Board, the European Union body responsible for the orderly winding down of banks. His normal term at the head of the National Bank of Slovenia would have ended in July 2019. He will be replaced by his deputy Primoz Dolenc, who will also attend ECB meetings, central bank spokeswoman Bojana Leskovar said. It's unclear whether he'll be able to vote on ECB decisions, she said.
The departure comes as the ECB edges closer to a decision about the future of its bond-buying program, which is currently scheduled to run until at least September. The Slovenian central banker hasn't discussed monetary policy in his most recent public appearances, but he previously stressed that officials need evidence that inflation is back on track before winding down the stimulus.
"I am leaving because I was confirmed to the post in Brussels," Jazbec said by phone after the announcement.
He became governor in 2013, just as Slovenia was struggling to avoid a Greek-style international bailout after years of mismanagement and political meddling pushed state-owned lenders to the brink of insolvency. He led a 3.2 billion-euro ($3.9 billion) taxpayer-funded bailout of Nova Ljubljanska Banka d.d., Nova Kreditna Banka Maribor d.d. and Abanka d.d. with the government at the time.

After some investors in the banks lost money, Jazbec become the subject of criticism from media and political rivals that culminated this year in his asking for protection after unknown people threatened his family.
"He had a good reputation in ECB circles and in Brussels and he was a representative of the more reform-oriented Slovenian elites," Gunter Deuber, head of research at Raiffeisen Bank International AG in Vienna, said in an email. "EU institutions and the ECB always tried to protect him in case of pressure domestically," he said, adding that Jazbec's tenure "was a successful one" in avoiding an international bailout in 2013.
Elections, NLB
Slovenia won't pick his replacement until after general elections expected in May or June, according to President Borut Pahor's spokeswoman, Spela Vovk. Leaders of parliamentary groups are agreed that a new central bank head should be chosen after the vote, she said.
A permanent replacement will depend on the government that will emerge from the ballot, and at the moment, an anti-establishment comedian-turned-mayor, Marjan Sarec, is leading in opinion polls. Sarec has vowed to sweep the former Yugoslav republic's political elite from state institutions and, during the presidential election that he lost last year, Sarec pledged not to reappoint Jazbec for a second term.
The issue of Nova Ljubljanska Banka, a dominant topic of the election campaign, is "uncomfortable and awkward," Jazbec said, after the country reneged on a pledge to the European Commission that it would sell the lender by last year as part of the deal allowing the bailout. Slovenia is in talks with the commission on an alternative.
Jazbec's absence means that the Governing Council will probably be missing two regular members at its summer meetings, after Latvia's central bank governor, Ilmars Rimsevics, was barred from attending ECB sessions. Rimsevics has been suspended from his duties at home after he was detained in a bribery investigation. He denies any wrongdoing.
— With assistance by Piotr Skolimowski
(
Updates with economist comment in seventh paragraph.
)
Before it's here, it's on the Bloomberg Terminal.
LEARN MORE